Cláudia Sidesteps Issues While Fully Aware Of How That Is A Thing That Should Not Be Done, Jokes About It To Pretend She's Cool, end quote.
But who cares? I just scanned a whole month's worth of doodles, holy fuck!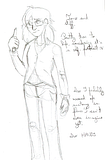 I, uh, should really hold back on the self-loathing thing.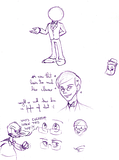 Donald's totally right here, though! I've got to break out of my comfort zone (my comfort zone is boring busts looking to the left).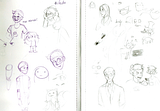 See,
that
self-portrait looks much better. Also, I bet Snape would fucking hate Homestuck.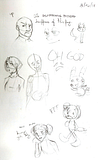 Jesus Christ, look at that... thing in the middle! D8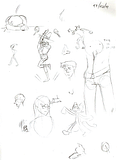 I like to convince myself the mariachi is enough to redeem this page.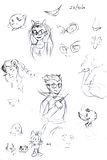 I'm sorry if you don't like Homestuck, too. ;; You can always look at, uh... that masterfully drawn Kirby, or... Gladstone Gander's floating head...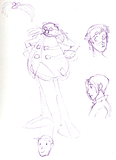 Robotnik is basically the best, okay?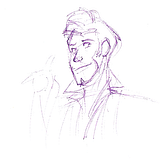 I should stop drawing Cabanela without reference. Like, normally, this would barely count as fulfilling Robert's request. This way, it's like it doesn't count
twice as hard
.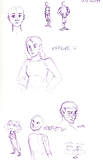 That woman in the middle was supposed to be my high school History teacher. I am beginning to think her badassitude cannot be captured on paper.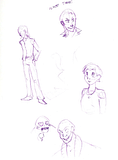 I haven't been able to draw this character of mine for ages, but I think I'm getting the hang of it again! Sort of, mostly! Also, a somewhat humanised version of a Homestuck antagonist being met with disapproval by his regular self.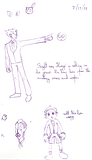 I saw the Tintin movie with my uncle last Sunday! I liked it quite a bit. :3 Then I... tried to draw Phoenix in Hergé's style, and it... didn't... yeah... Look at those hands. My God. Then I guess I tried the same thing with Shelly, but I changed plans halfway through, so he just came out looking slightly cartoonier than usual. Ah well.
And that's it! Lately, I've been posting a lot of my doodles
here
. As soon as I post this, I will proceed to drop a link to this post in my Tumblr. Thus the ritual will be complete and the Darkest God will rise from thno this is stupid.
I hope you've all been mostly well. óuò