Remember when I did a really barebones collection of commentated screencaps for 1-5 and 2-4 with an obvious bias towards certain characters in each case? I decided to do the same for the first case in Ace Attorney Investigations 2, because I'm fucking terrible. (
If you didn't know, the translation patch for the first two cases has been out for a while!
They're making good progress on the rest of the game too, from what I hear.)
This will be a little more thorough than what I did for 1-5 and 2-4, since, you know, it's for a game with no official English release. It's still not a full Let's Play, though. Mostly because I'd feel bad doing that when the translation isn't even finished, haha. It's just a thing that I'm doing for fun and self-indulgence and. WELL.
YOU KNOW.
SOOOO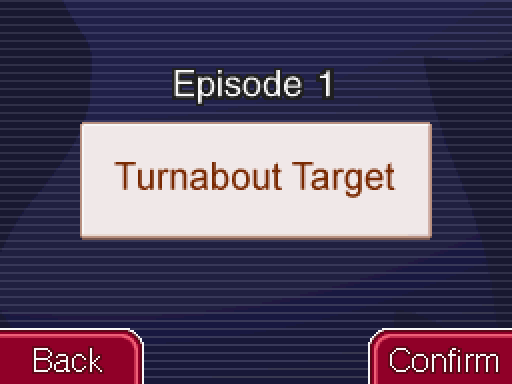 Let's begin, shall we?
The deal is that the President of Zheng Fa is coming over for a conference. There's a big old crowd at Gourd Lake Park and it's kind of a big deal.
Also this game takes place ten days after the end of the first Investigations THAT'S RIDICULOUS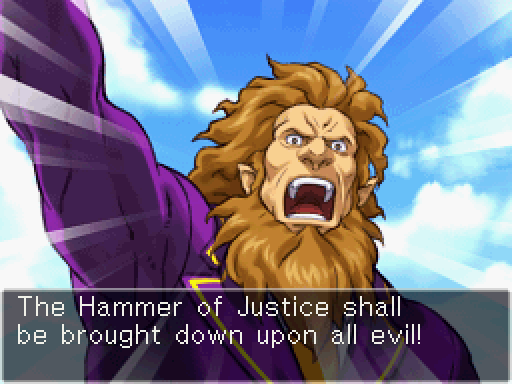 The president, Di-Jun Huang, is a pretty hardcore guy, you see.
BUT SUDDENLY, A GUNSHOT
And the only guy who can solve this case is Miles Edgeworth ok sure.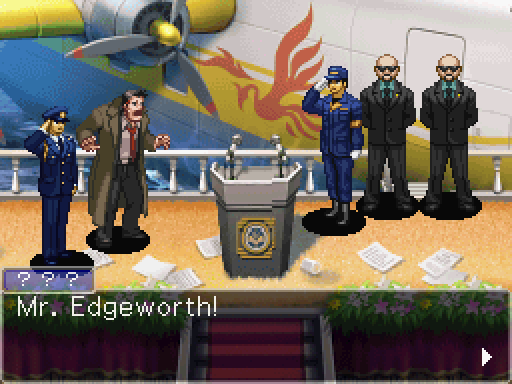 My boyfriend is really weirded out by Gumshoe's tiny sprite in this game and I guess I see his point?? IT'S NOT VERY FLATTERING.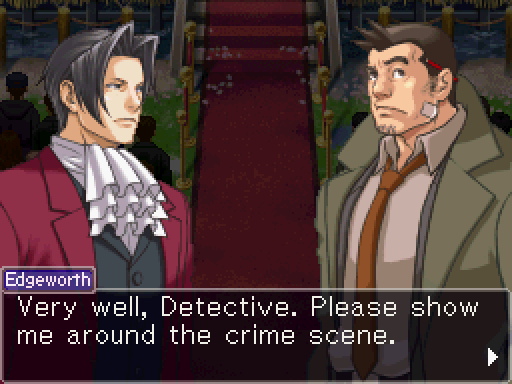 It's worth noting that the president isn't dead yet! his condition is unknown, apparently, but he's not dead. Edgey's just here to investigate the assassination ATTEMPT.
At this point a lady in the audience starts jumping about and asking for details in a southern accent that indicates she will be a character in this case, but I missed the screenshot because I'm a dummy and grabbed the wrong screen. Edgeworth pretty much tells her to fuck off.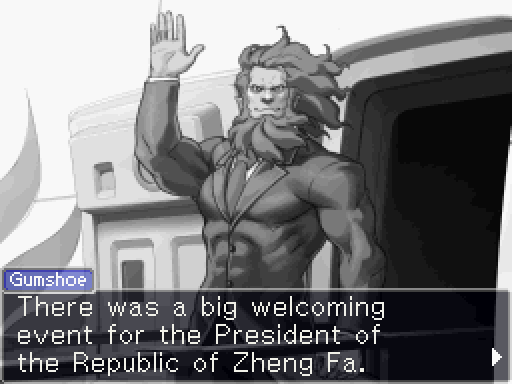 Everyone wanted to welcome Di-Jun Huang's GLORIOUS MUSCLES.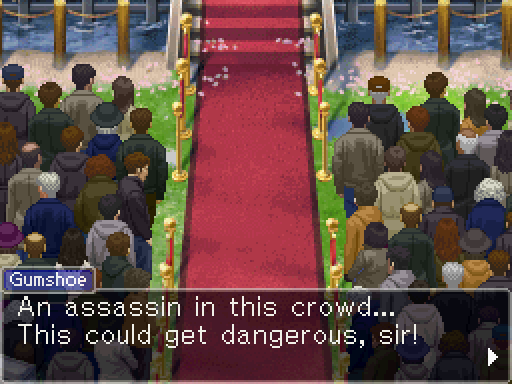 The park was sealed out apparently, so THE ASSASSIN... IS STILL OUT THERE....
There is still Logic in this game, and for now it's composed of largely obvious shit.
Let's talk... TO THE BODYGUARD TWINS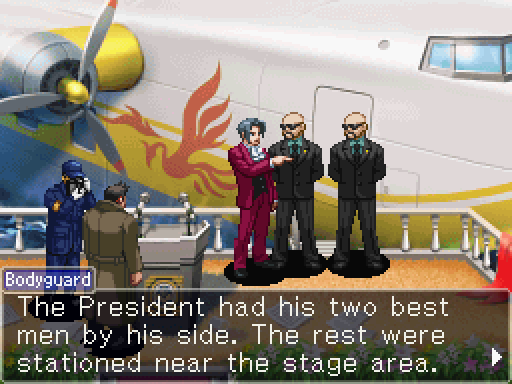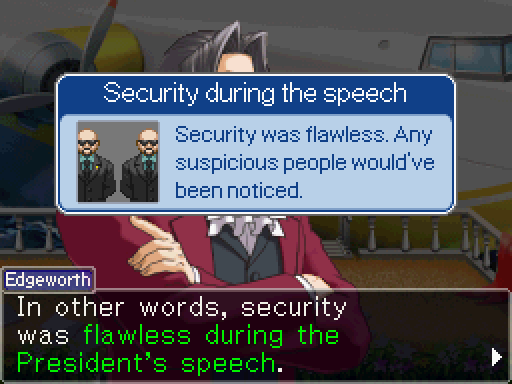 Sure. Flawless. THAT'S WHAT THEY ALWAYS SAY.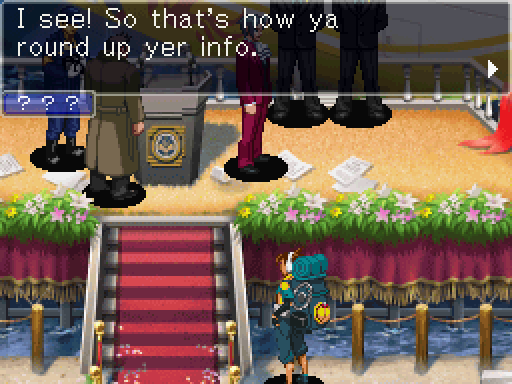 Say, does she remind you of anyone (Edgeworth ignores her again).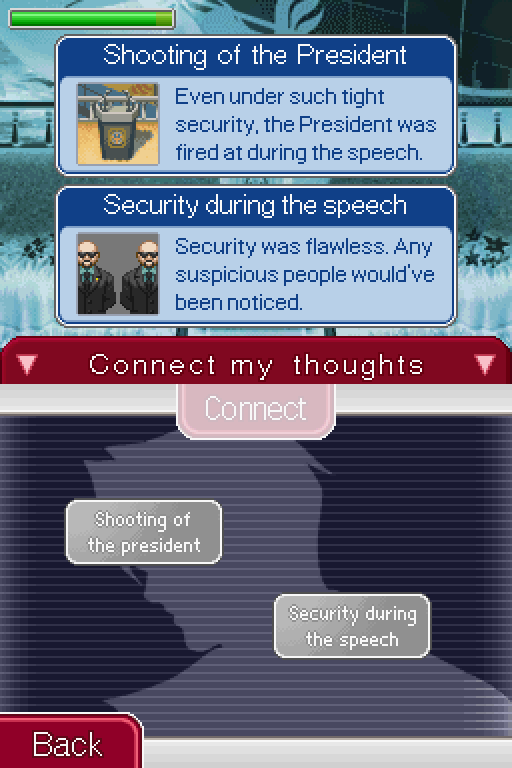 She leads us to the Logic tutorial though...
And this is the conclusion. Fucking incredible.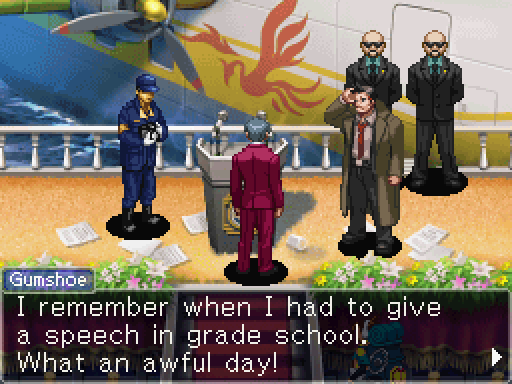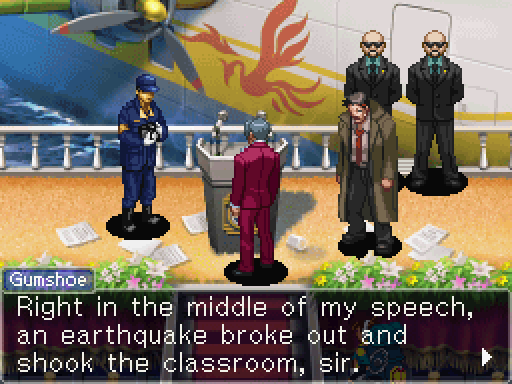 Bless you Gumshoe.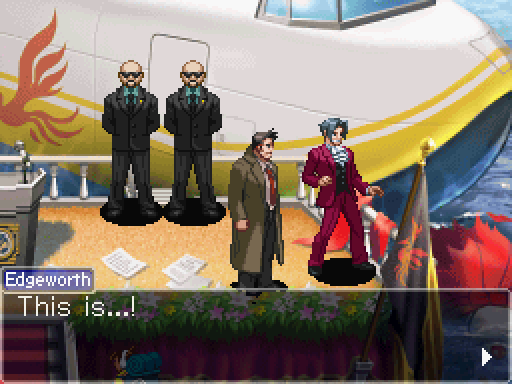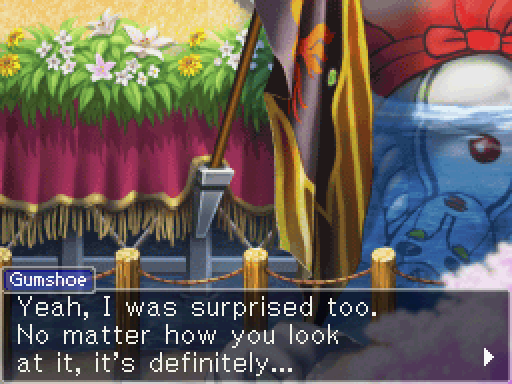 ... A destroyed Steel Samurai balloon 8')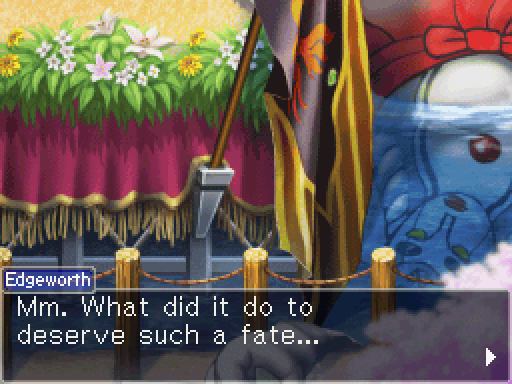 Edgeworth feels pretty strongly about it.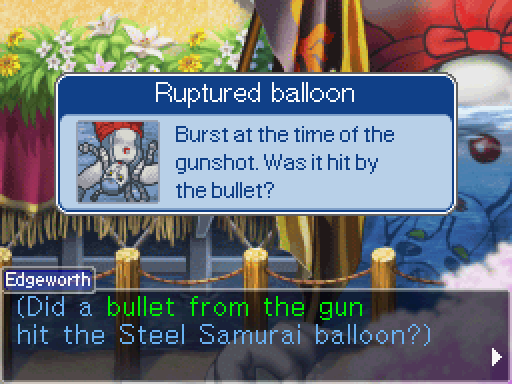 LOGIC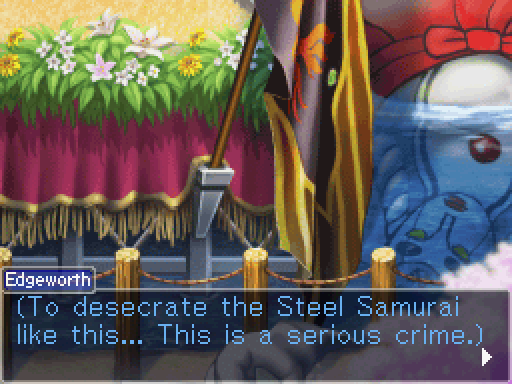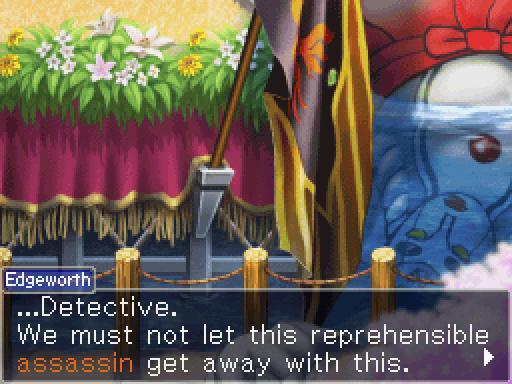 Edgeworth please.
Can you see where this is going yet. BULLET TRAJECTORIIIES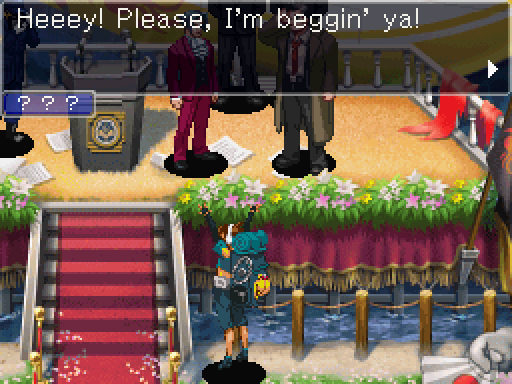 "PAY ATTENTION TO MEEEEEEEEE"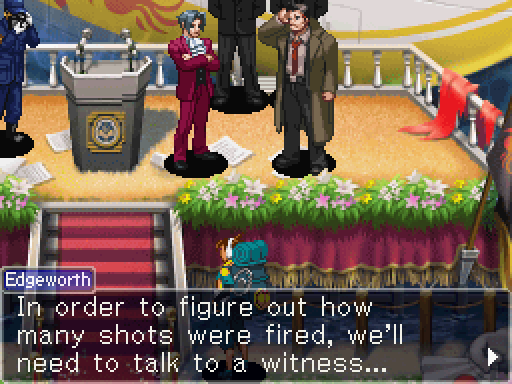 And that's the reason Edgeworth stops ignoring her.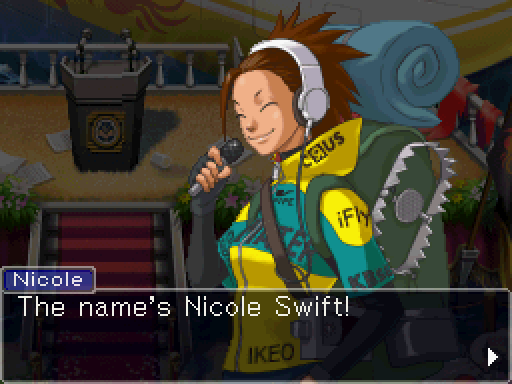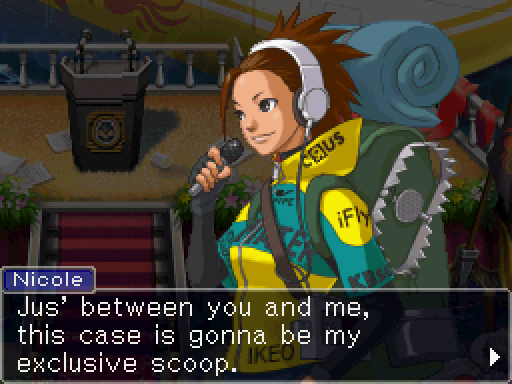 DOES SHE REMIND YOU... OF ANYONE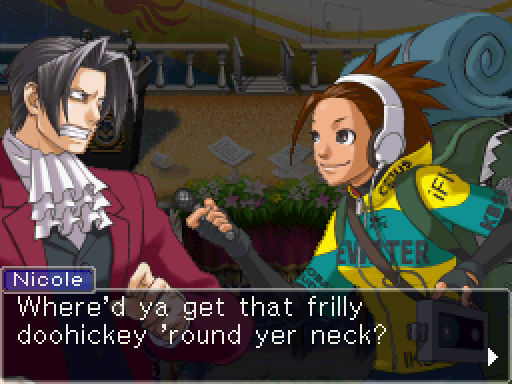 She's alright though--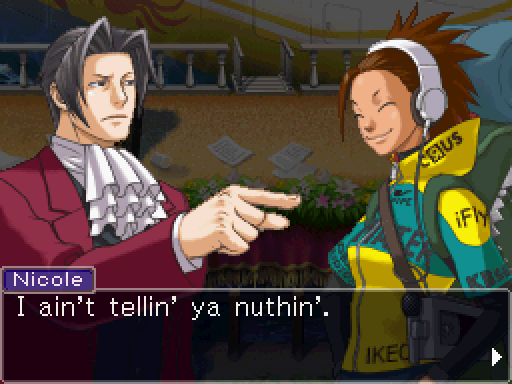 OH NEVER MIND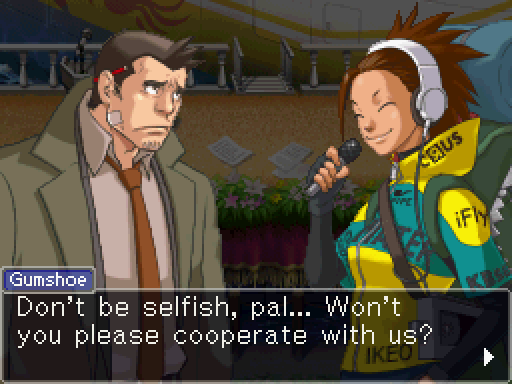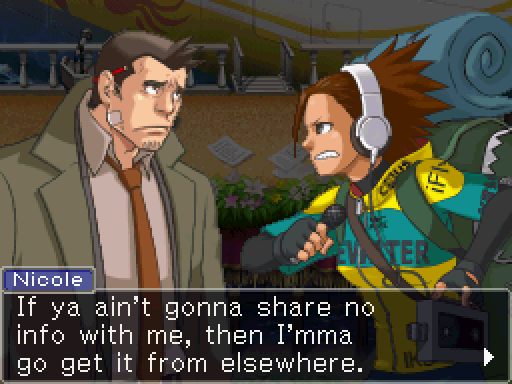 That's right.
We're going to chess her into talking.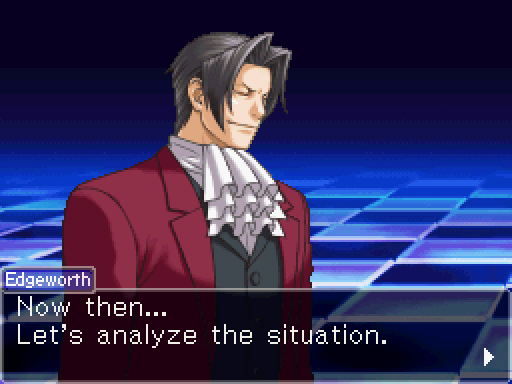 You thought I was joking? CLEARLY YOU WEREN'T KEEPING UP WITH THIS GAME DURING THE PRE-RELEASE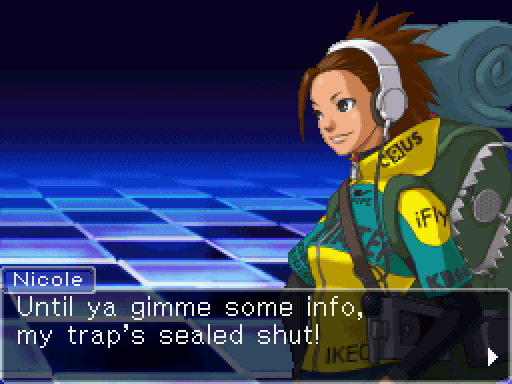 Basically the way this works from what I've seen is that you're up against people who don't want to talk and so you have to tip-toe around the subject until you manage to corner them and force them to admit things they didn't mean to.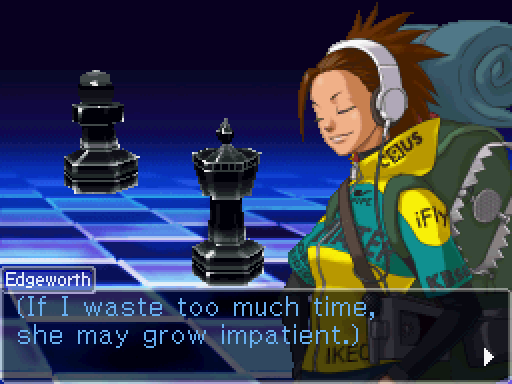 But you can't tip-toe around it TOO much or you'll just go in circles forever, and this is timed for some reason.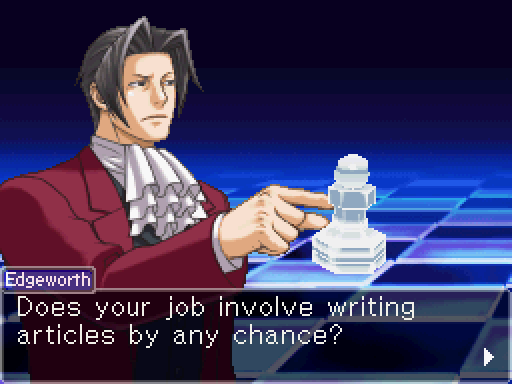 Progress in the right direction is indicated by Edgeworth smiling smugly...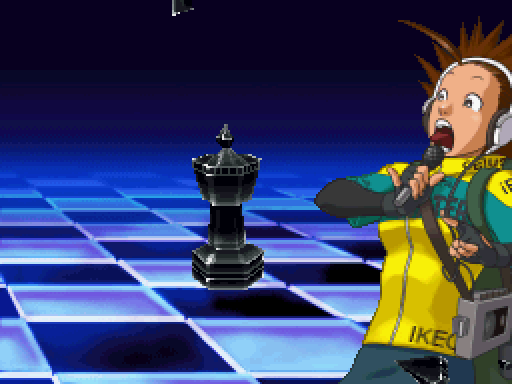 and then throwing his chess pieces at the opponent's.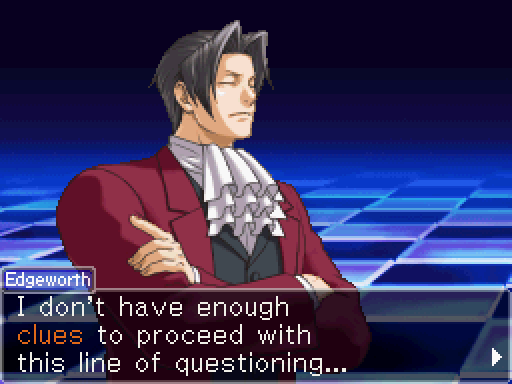 Sometimes you get multiple choices of dialog trees, but you need a clue from another one in order to progress.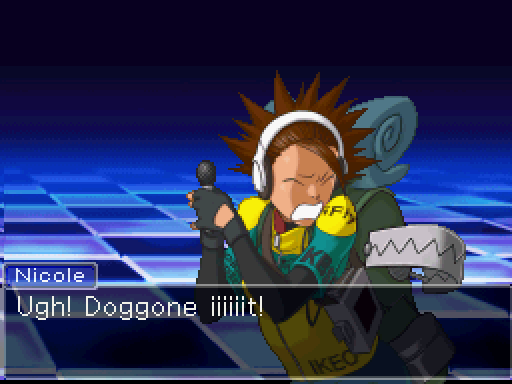 Why does she carry a beartrap though. THE TAPE RECORDER IS USEFUL THOUGH, TURNS OUT SHE RECORDED THE SPEECH
Shut up, Edgeworth.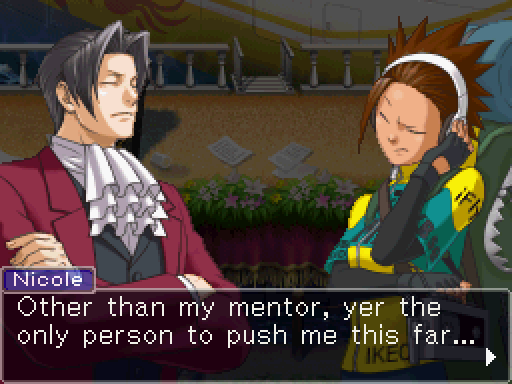 You get three guesses as to who her mentor is.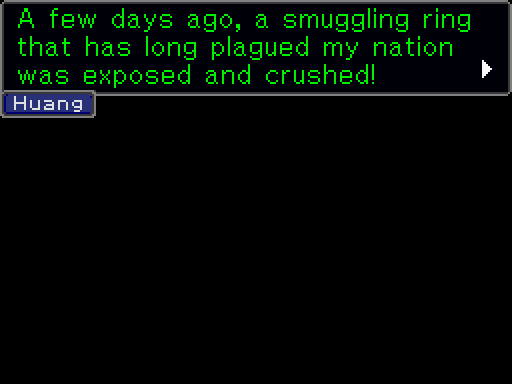 So the recording appears to be basically what we saw in the intro...
with Nicole's commentary, and apparently some dudes who were chattering in front of her.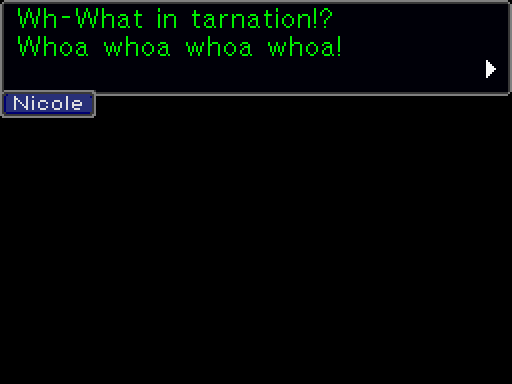 And also two gunshots.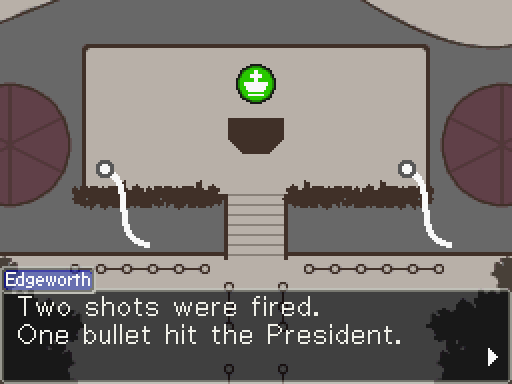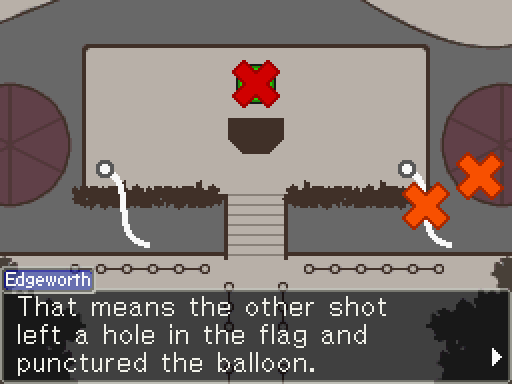 Pretty simple stuff. From this, we can deduce the shooter was in the left side of the audience area!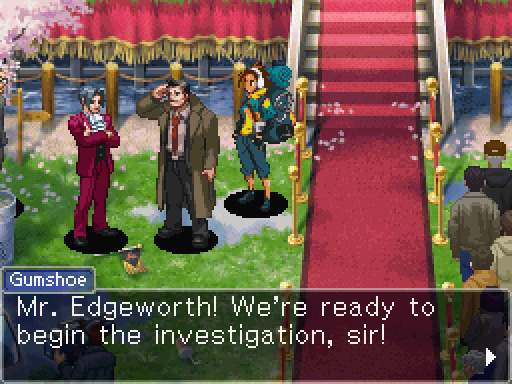 AND NOW WE INVESTIGATE FURTHER
Lotta Hart is terrifying (also Nicole is now calling Edgeworth her second mentor).
HEEEEY LOOK WHO'S HERE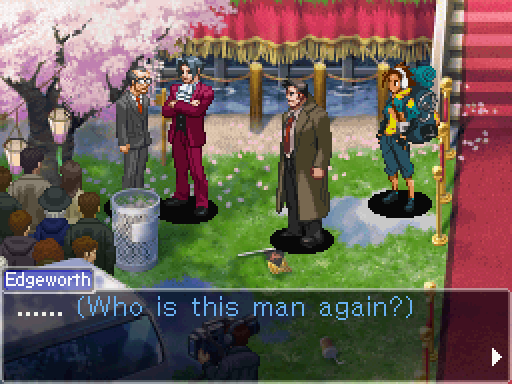 Edgeworth still doesn't remember him. It does turn out he's one of the unknown voices in the recording! The other one is that of the chief prosecutor, who is apparently a dude now.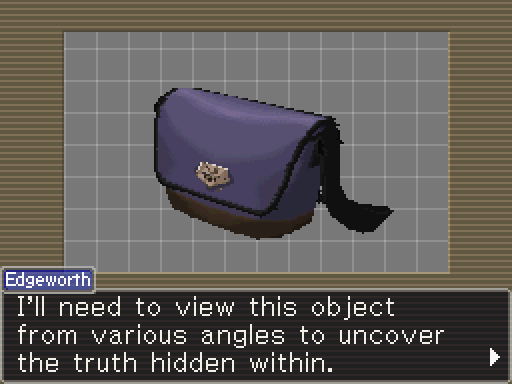 We get to examine evidence from the garbage in THREE DEE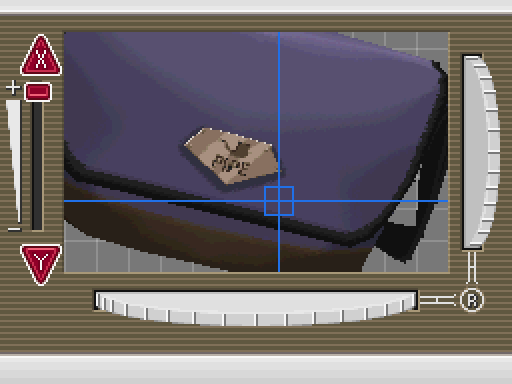 ah yes a PIPE brand purse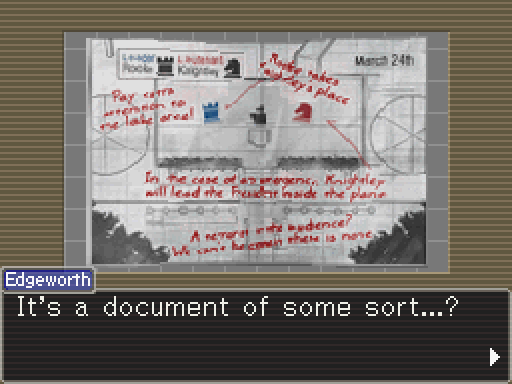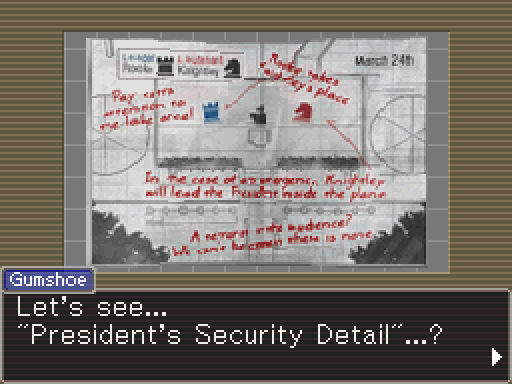 Gasp!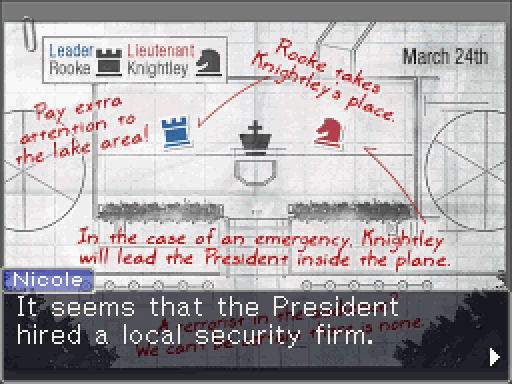 I hope everyone who works in this firm has chess puns for a name. (The text in the portion of the plans that's hidden by Nicole's dialogue reads
"A terrorist in the audience? We can't be certain there is none."
)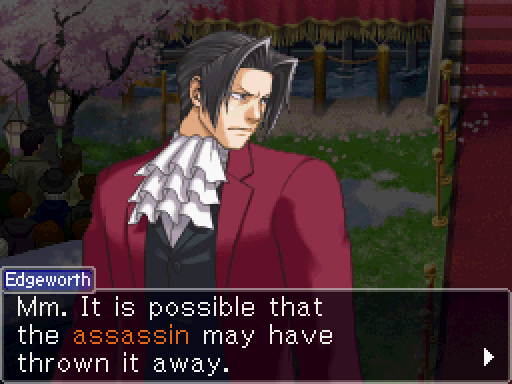 Also there was a gun in the bag so yeah it was probably the shooter's.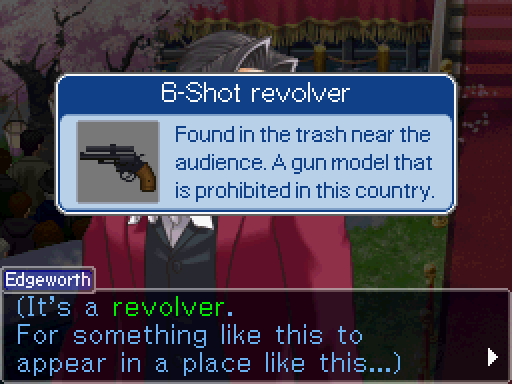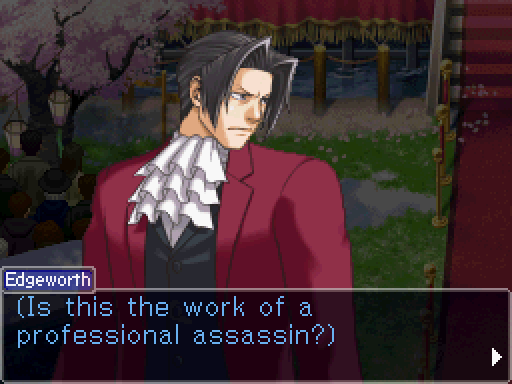 I DAMN WELL HOPE SO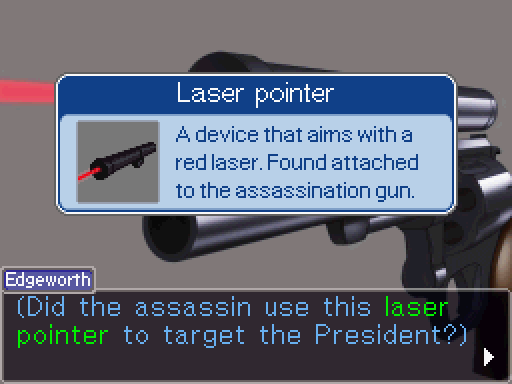 what kind of shitty-ass assassin needs a pointer that's like training wheels for killers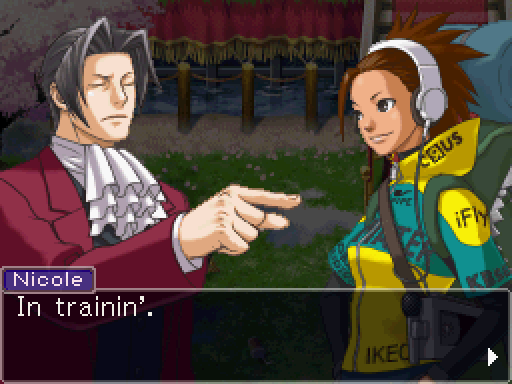 Ok well I'm sure that answer is still closer than he truly feared.
... do I HAVE to ask (it turns out I didn't, I just... forgot I had to talk to the camera dude in order to progress...)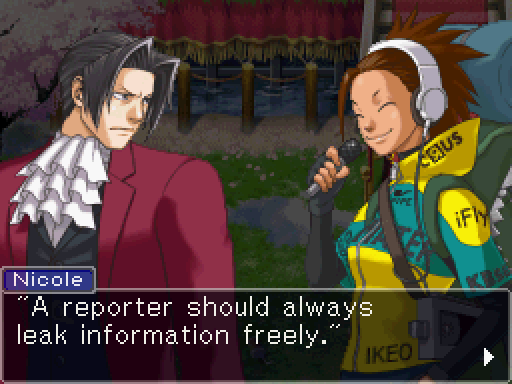 Lotta
NO
Remember that one Kay fanfic in the kink meme back when AAI came out that seemed like a standard character-bashing story but then turned into a showdown between her and Dahlia Hawthorne (or was it Maya. Or was it Maya possessed by Dahlia....)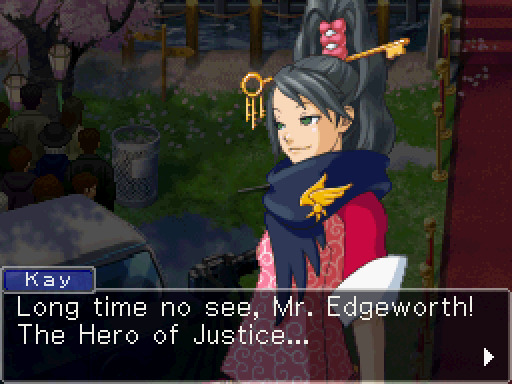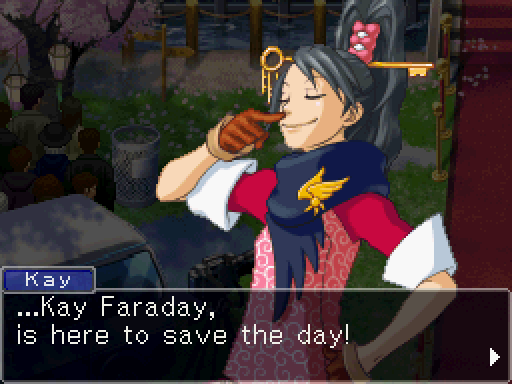 Oh yeah that was Kay. Sorry for the spoilers, guys.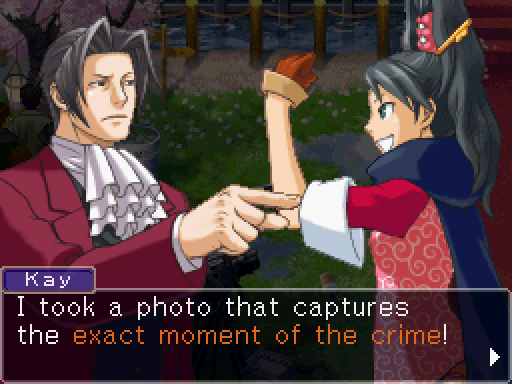 CONVENIENT but ok.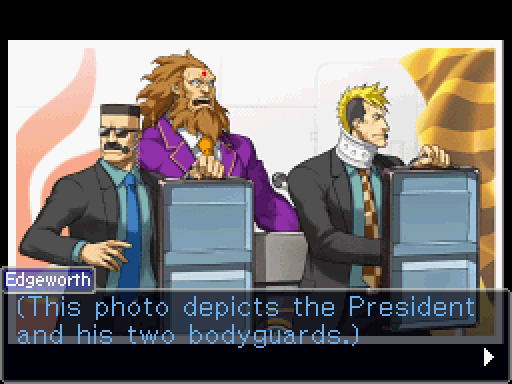 I love the character design in these fucking games.
I lost a load of Logic Juice here, because I forgot...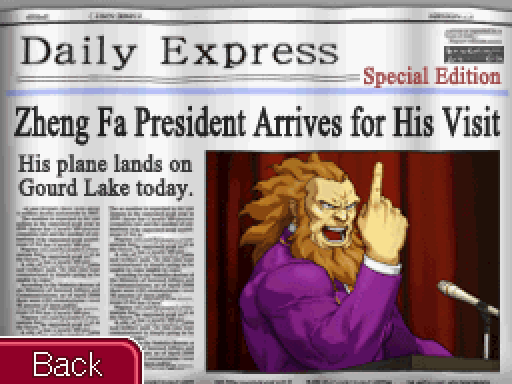 THAT YOU NEED TO POINT OUT PRESIDENT HUANG DOES NOT NORMALLY HAVE A RED FUCKING DOT ON HIS HEAD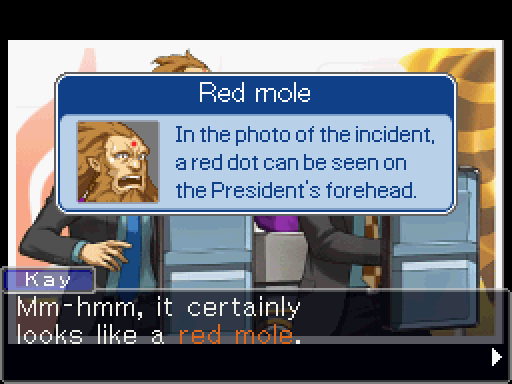 FOR FUCK'S SAKE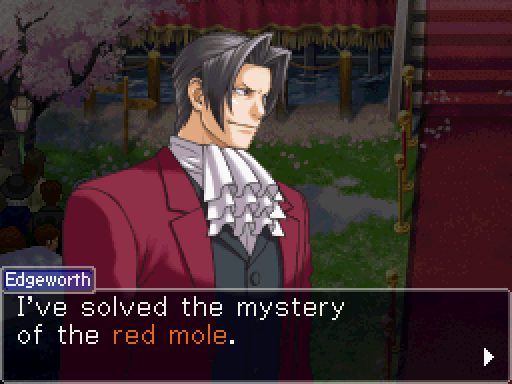 BYE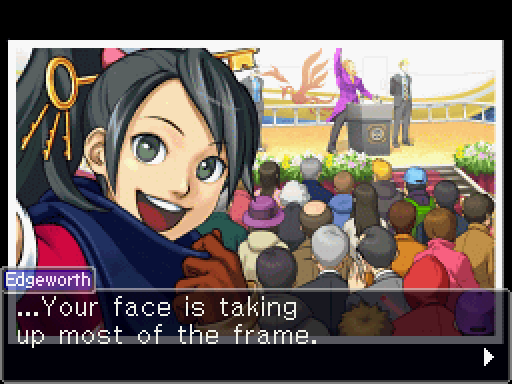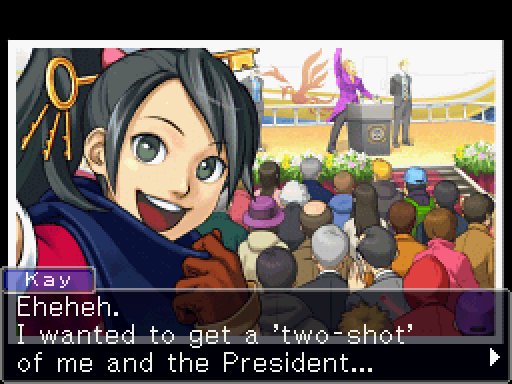 Kay truly embodies the modern teenage girl.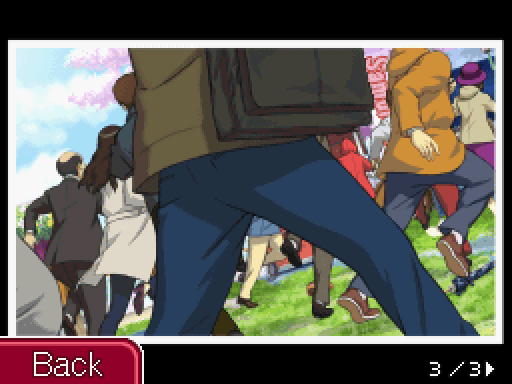 Aaaand the last photo she took. Looks like someone was selling Samurai Dogs in the background!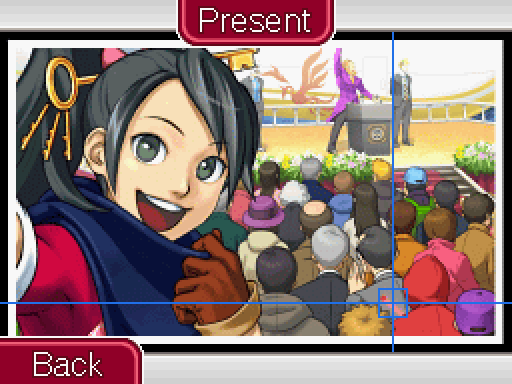 Also there's the laser pointer if you didn't see it before.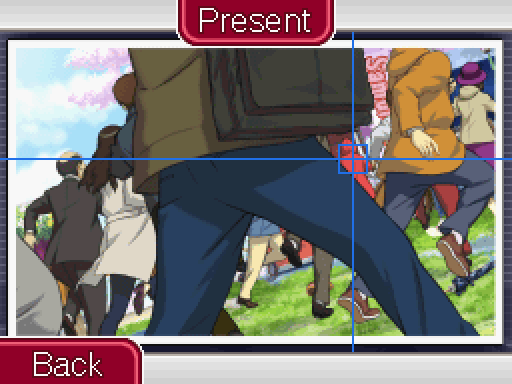 red hoooooooooood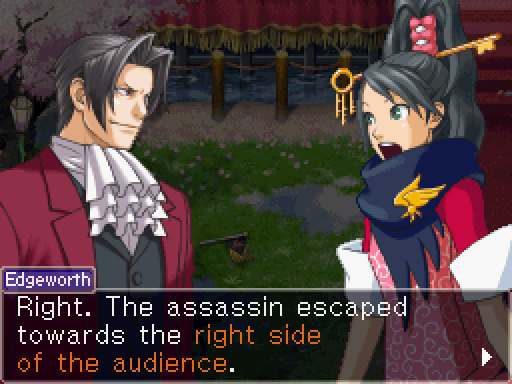 That's where we investigate next!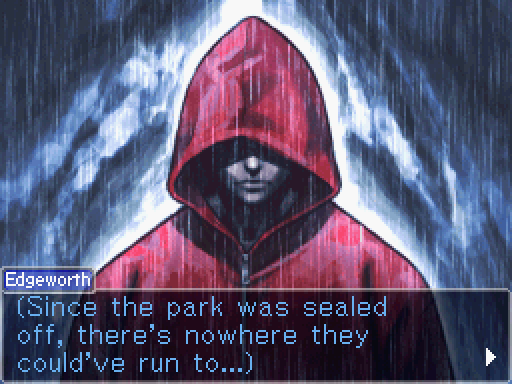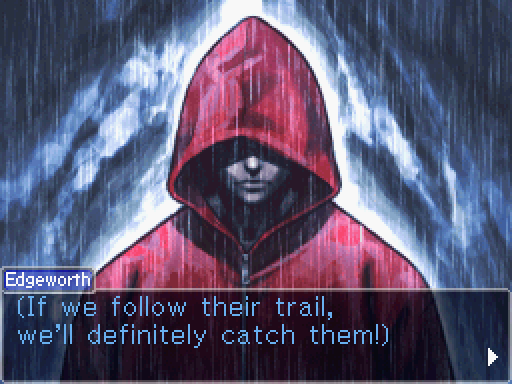 By which I mean next post. I kept going back and forth on whether or not to split this, but then I screenshotted the next part and if I did it all in one post it would end up fuckmongously huge so NOPE
SEE YOU HOPEFULLY TOMORROW