And so we begin investigating the right side! Also let me comment on this later.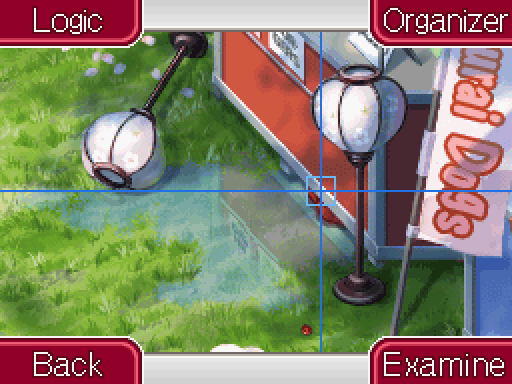 NO TIME TO TALK ABOUT SHOOTING BOOTHS NOW THOUGH, looks like there's something there!
How ODD. The other sleeve is fine though!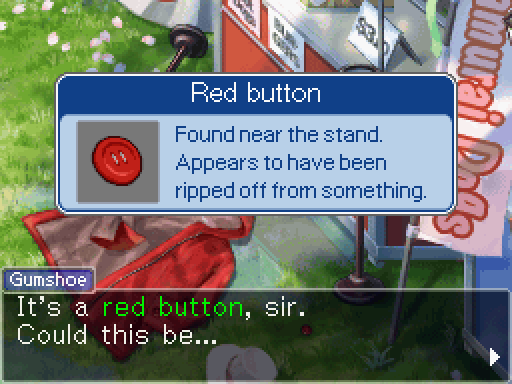 ... Right. This is still a tutorial case. I nearly forgot.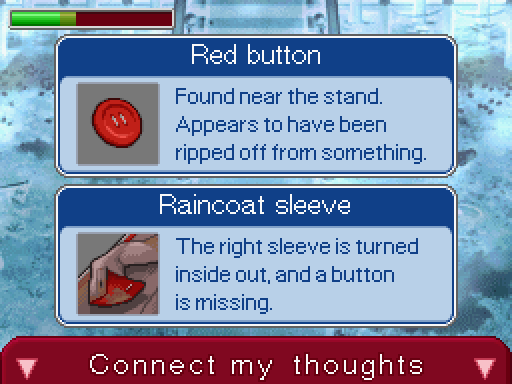 COULD IT BE...! (it is.)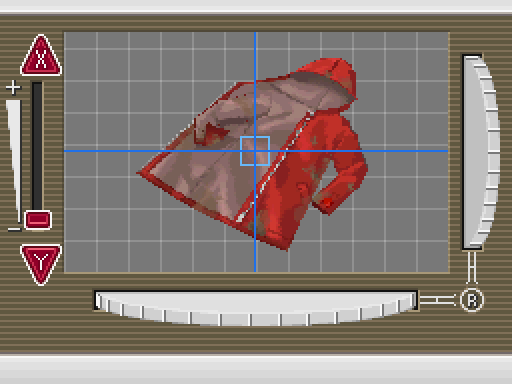 But why is the other sleeve not inside out? WE MUST INVESTIGATE. IN 3D.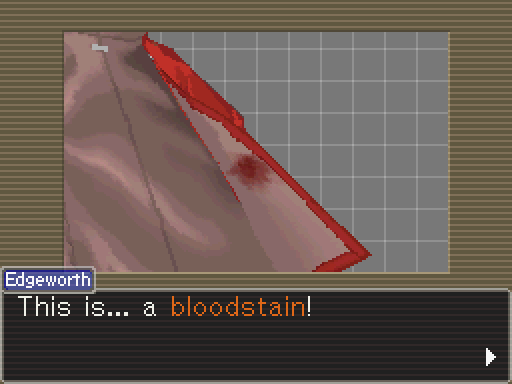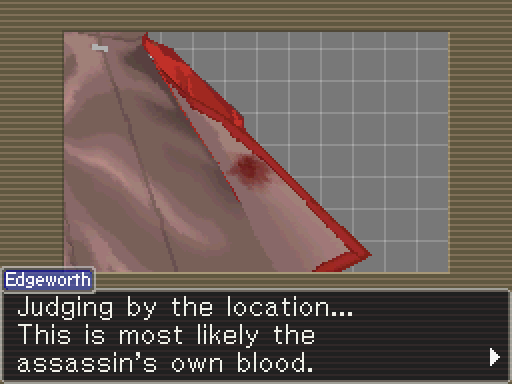 What a twist! This makes things simpler, though.
And the injury was probably on the left arm, hence why that sleeve was intact - the assassin couldn't get it through. SIMPLER YET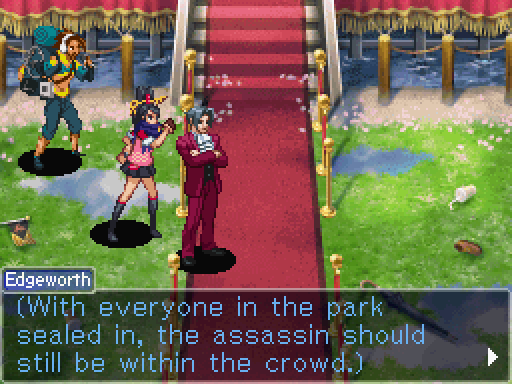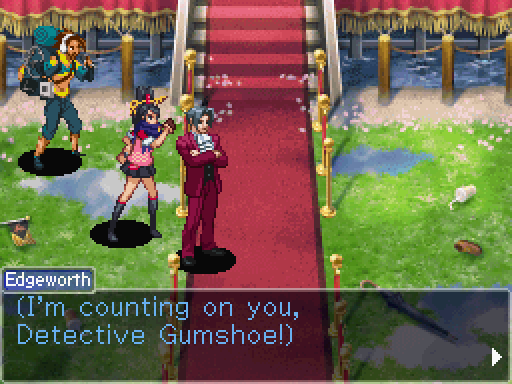 OHHHHH MAAAAAAAN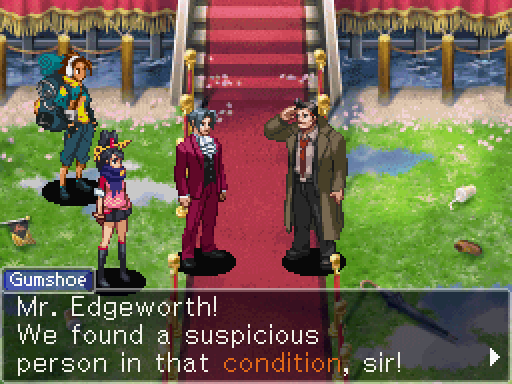 Suspicious? We'll see about that. :T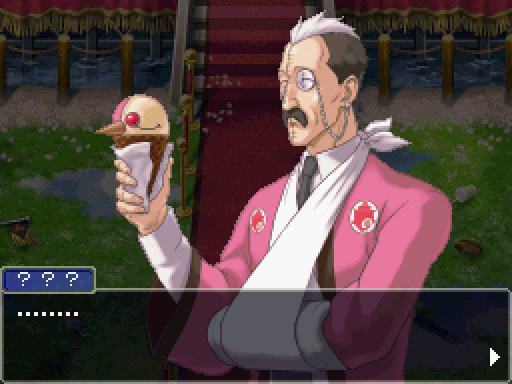 Gumshoe are you sure this is the right guy.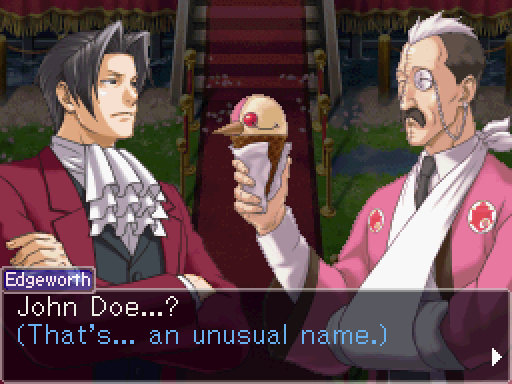 Edgeworth, you're partnered with Detective Dick Gumshoe.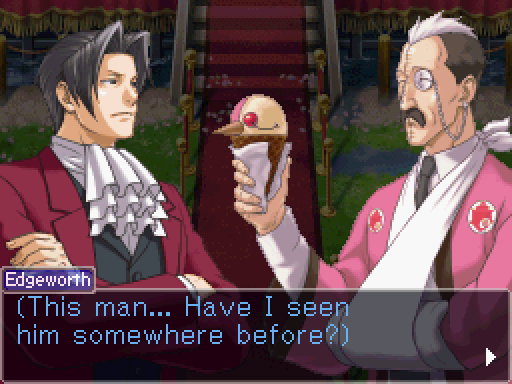 NAAAAAAAAAAAAAH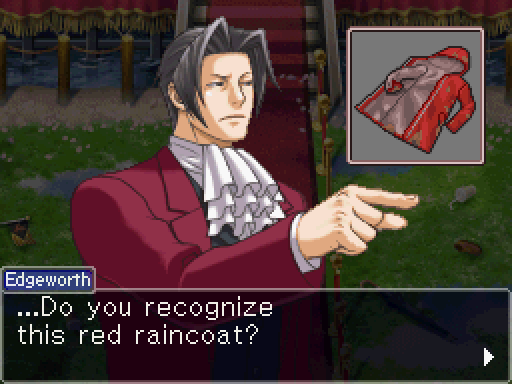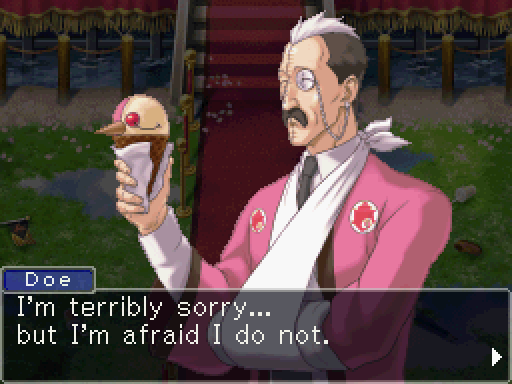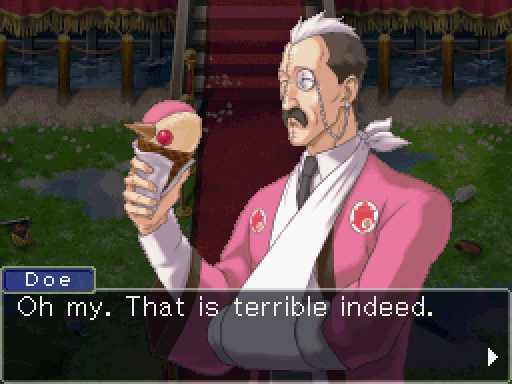 How ~*frightening*~!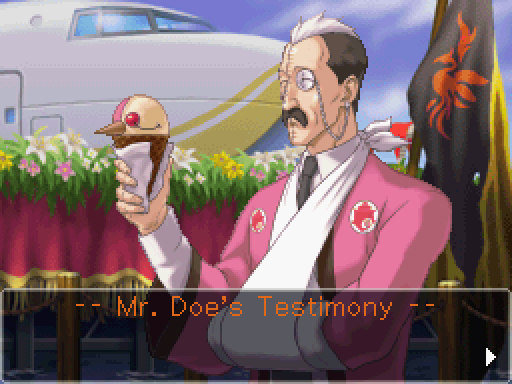 (Seriously though this is just so funny to me. IIRC even the pre-release materials just called him John Doe - well, ok, Tarou Tanaka, which is the combination of two incredibly common Japanese names - all the time and treated him as a harmless ice cream salesman and GOD. It's incredible.)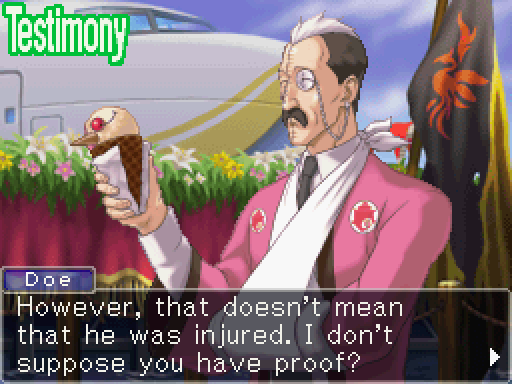 Man, I guess he doesn't realise he bled on the coat. I mean, the ASSASSIN bled on the coat.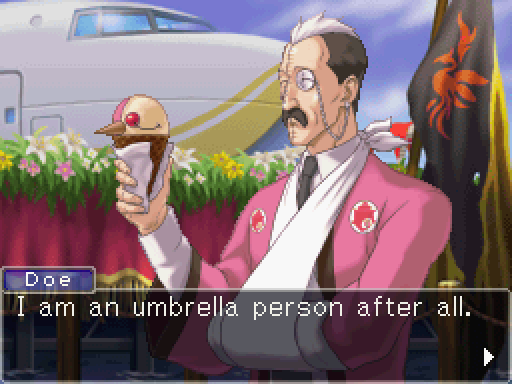 His claim is that he was wearing an umbrella. Not guilty, bye!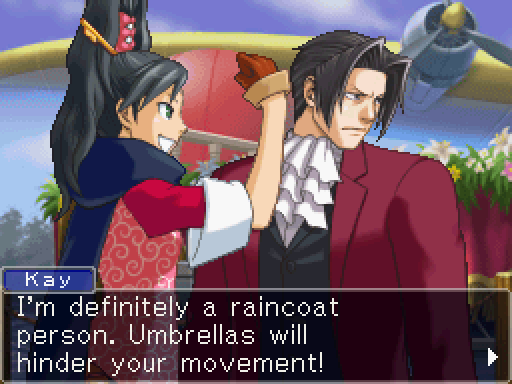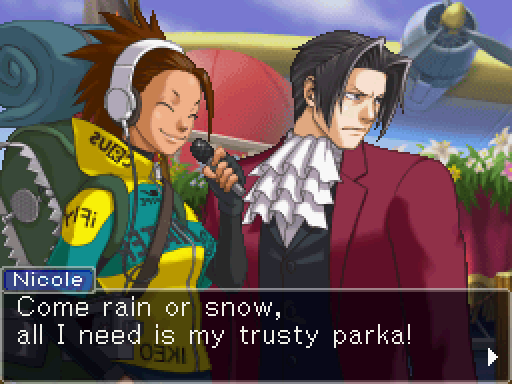 That's fascinating, ladies.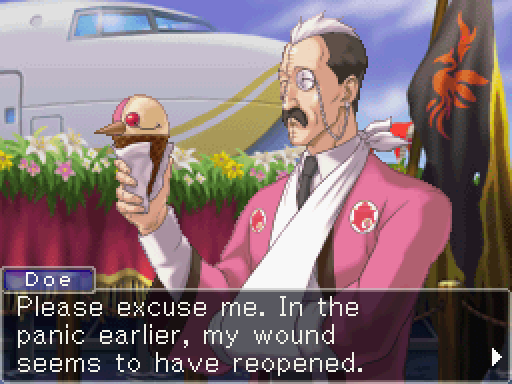 Dude just went "oh I'm a humble ice cream salesman WHOOPS MY ARM IS BLEEDING, EXCUSE ME WHILE I GRIP THIS ICE CREAM WITH NOTHING BUT MY LIPS AND WIPE THE BLOOD OFF"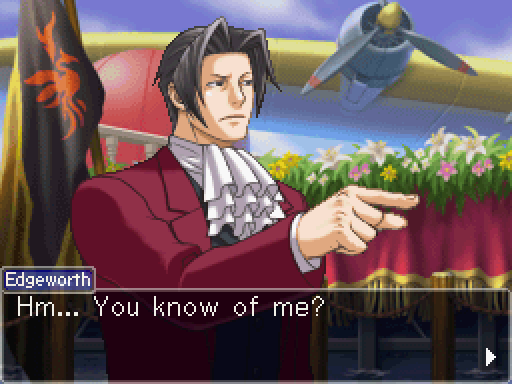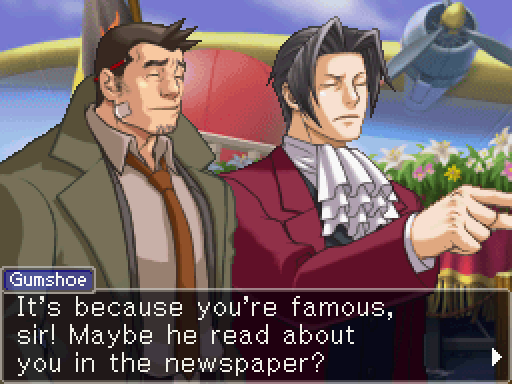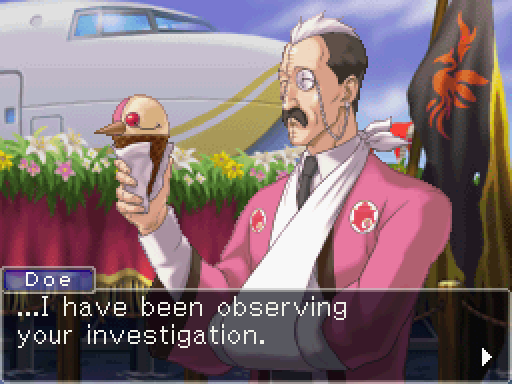 Welp that's not creepy at all.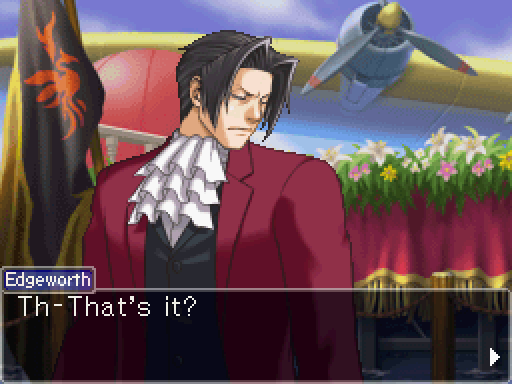 Yes. It was probably an ice cream related injury. Stop asking questions.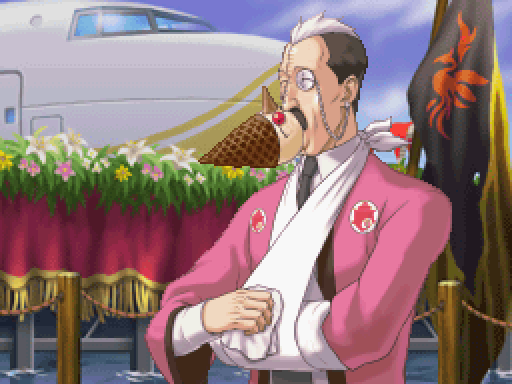 How does he DO that?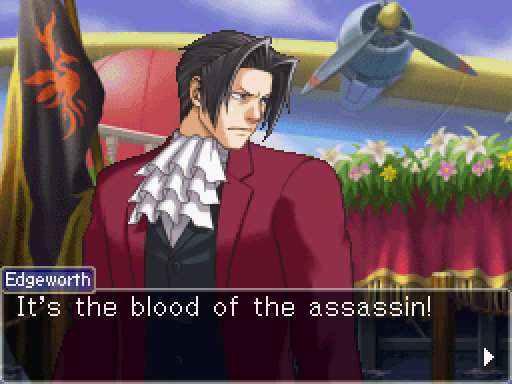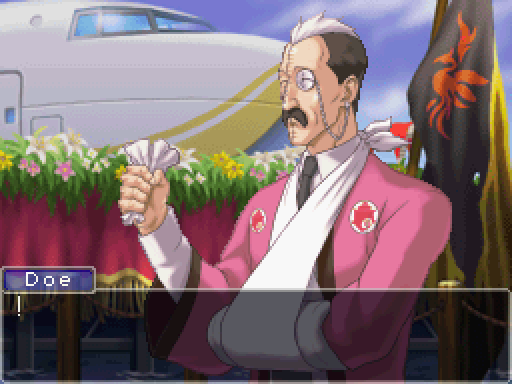 Well, we've got him! Game over.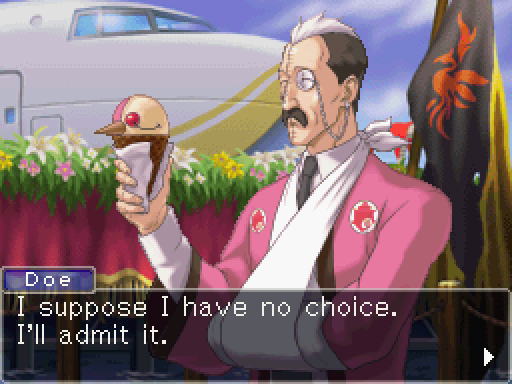 Yeah, see? I told you.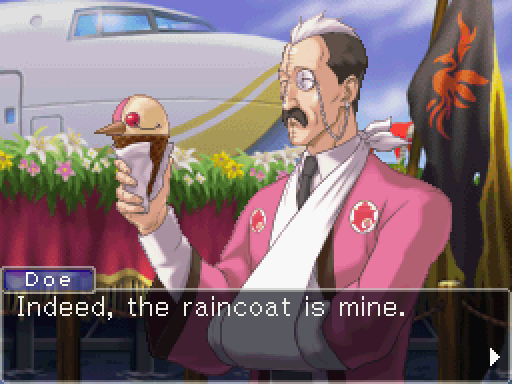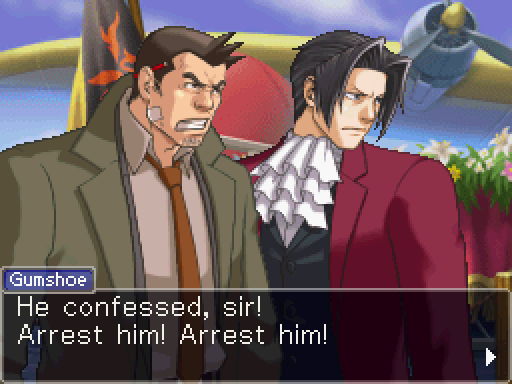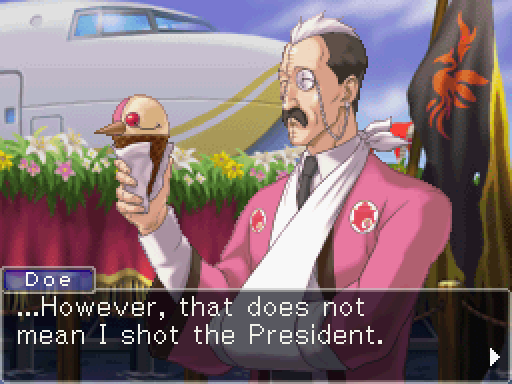 Oh.
Kay are you saying he opened his eyes.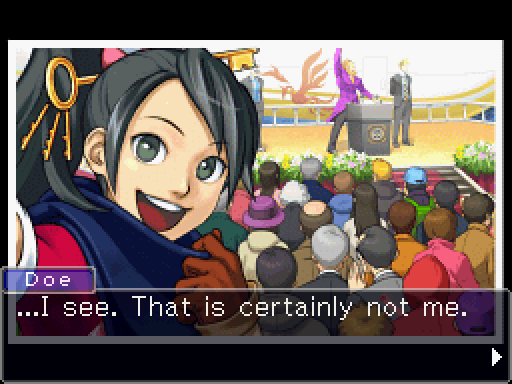 Okay, to be fair, he's got a pretty good point.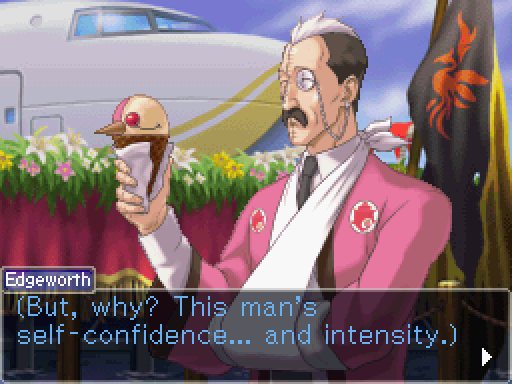 ... That's as far as that line goes. Honestly. IT JUST GOES FROM THIS STRAIGHT INTO THE REBUTTAL PHASE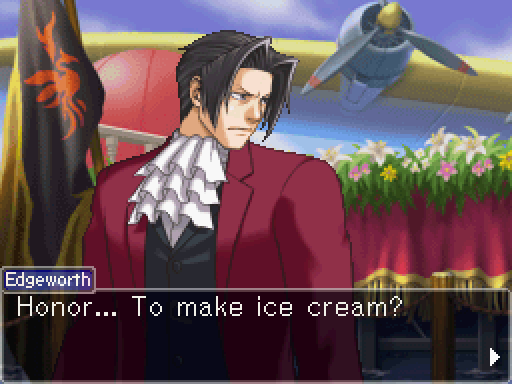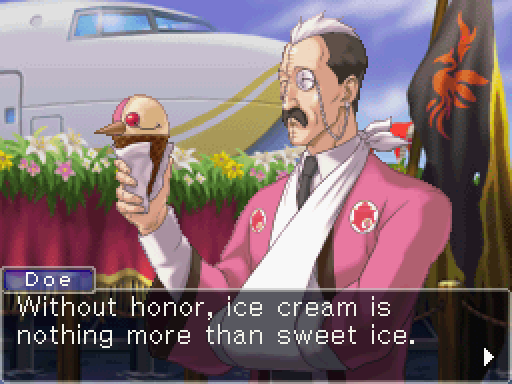 DAMN FUCKING STRAIGHT
i love this man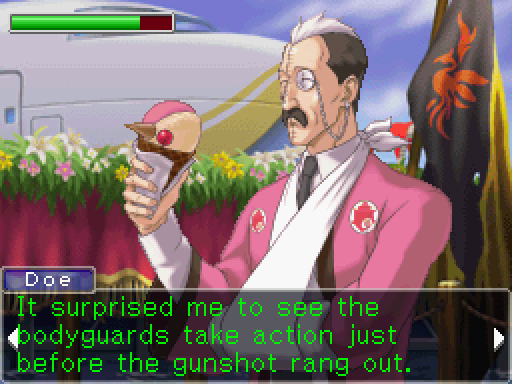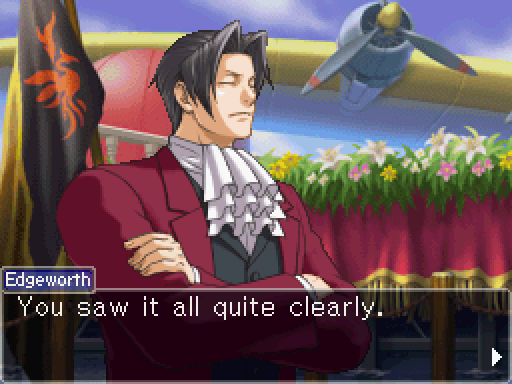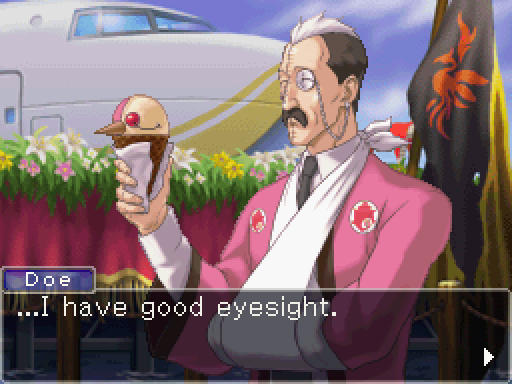 Weeeee'll take your word for it. he says the one on the left moved particularly quickly!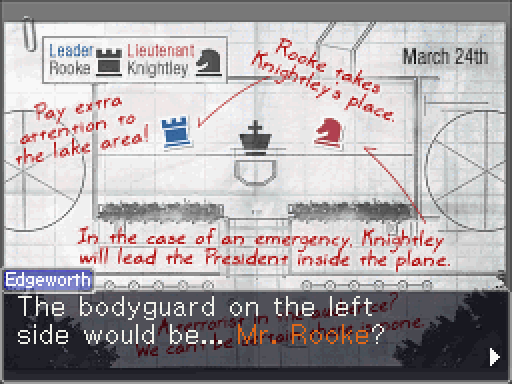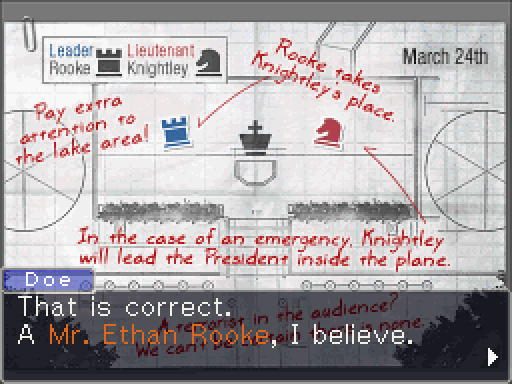 ... Ah.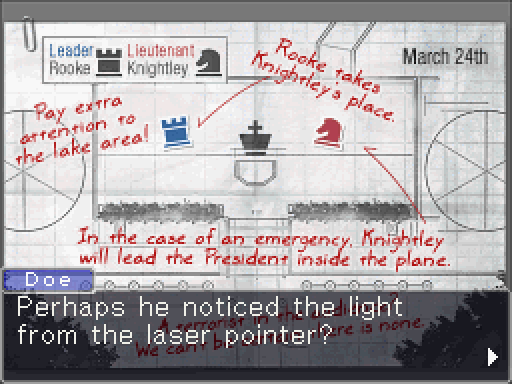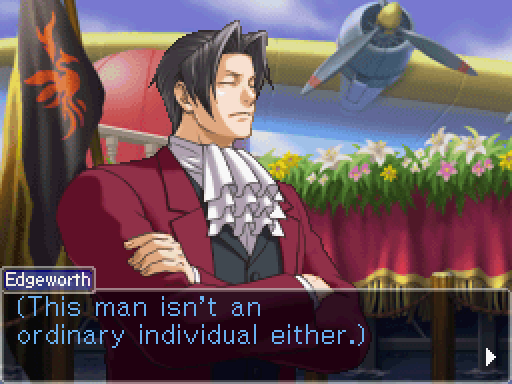 He sure isn't, Edgeworth. UuU
Ouch. :(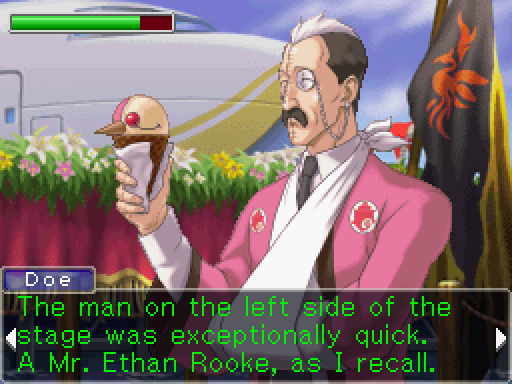 Ok, Mr. Doe, can you please elaborate on how cool that bodyguard was?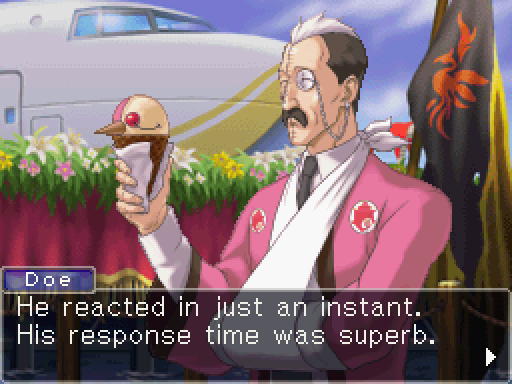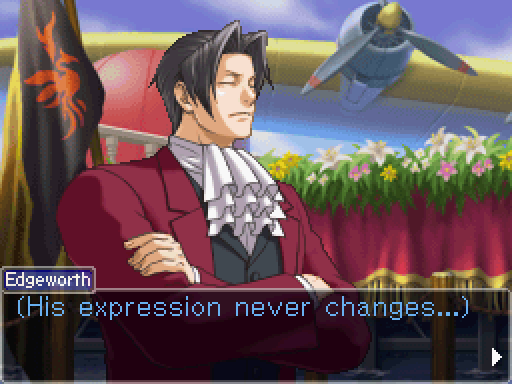 But on the inside, Shelly's heart is going doki-doki. It's having the super dokis, I tell you.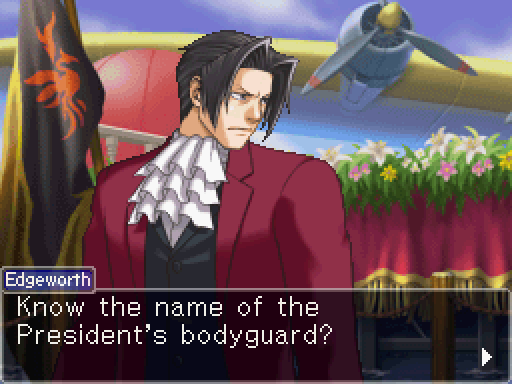 BECAUSE HE'S SUPER COOL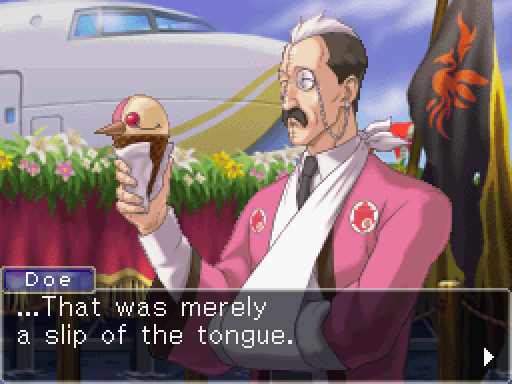 Yeah I fucking bet it was.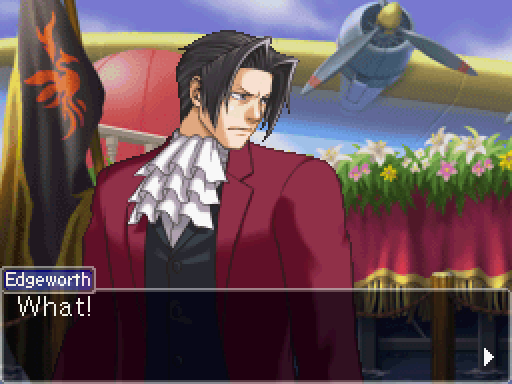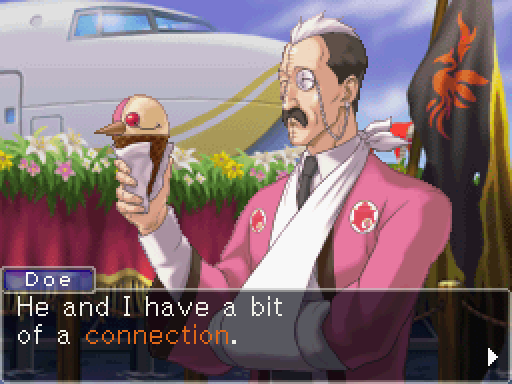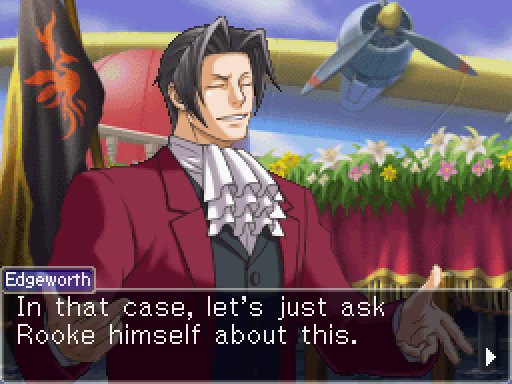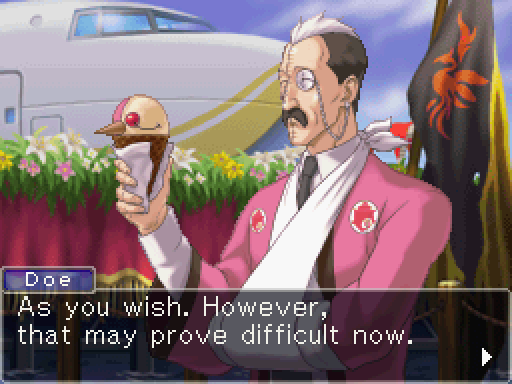 Ok, yeah, that could be a bit of a problem. Maybe.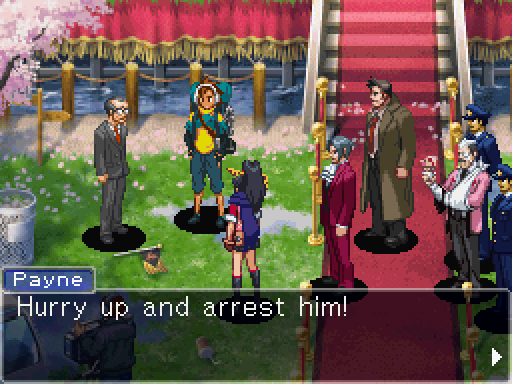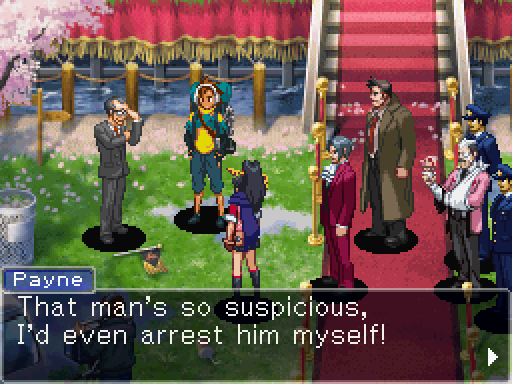 Payne, shut up.
Wait, really?
I just missed it because I'm an idiot BUT HE JUST SAID HE SAW SOMEONE
ELSE
IN A RED HOOD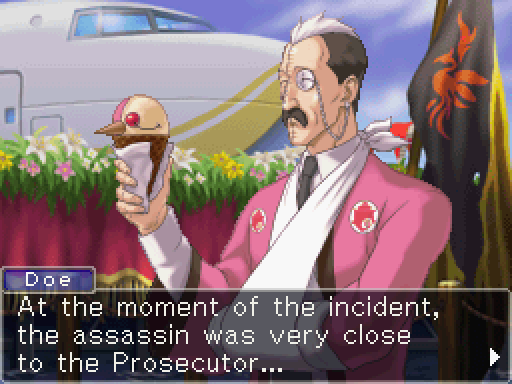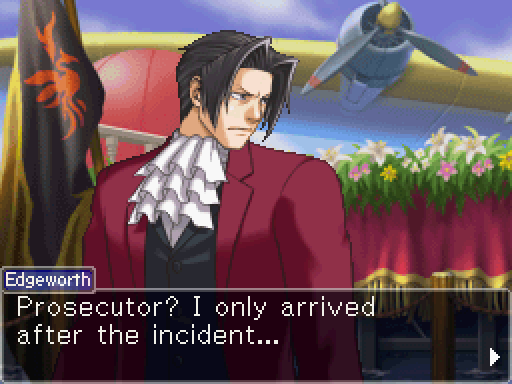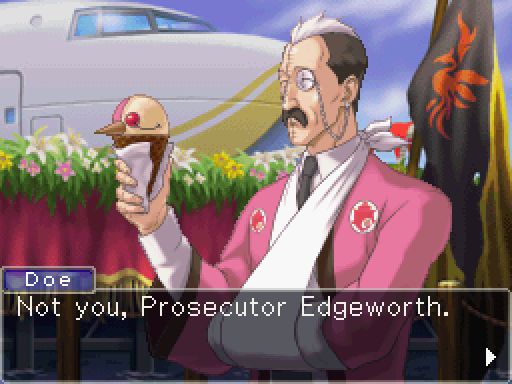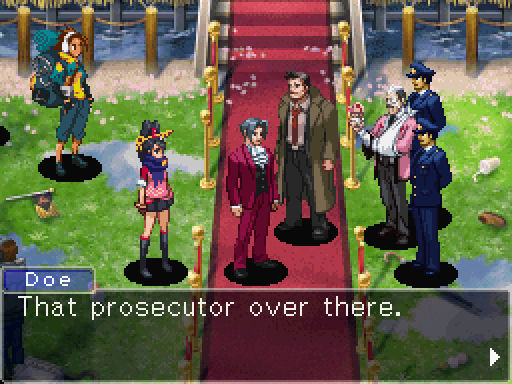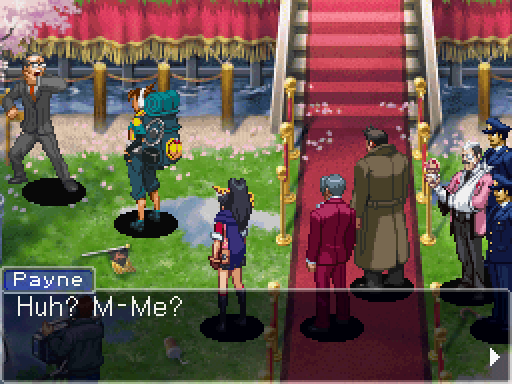 "SOMEONE KNOWS WHO I AM?!"
Yes, we know, this is like the fifth time you've said it. It seems he's noticed a contradiction we haven't, though...?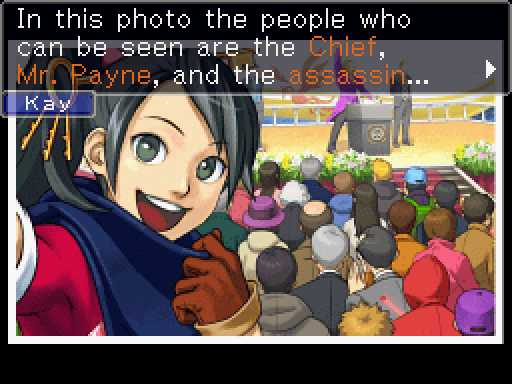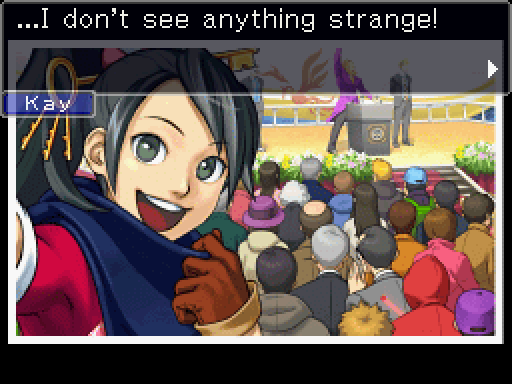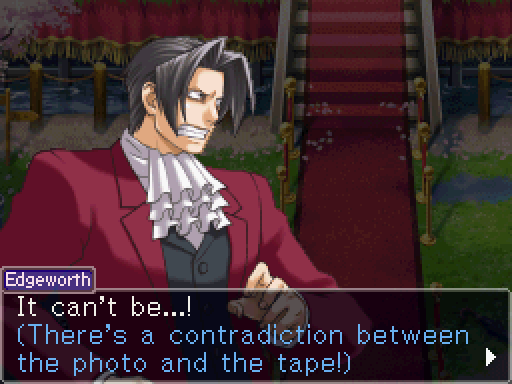 Can
you
figure it out, readers??
Pfffffffff "shrill old man". That's Payne alright.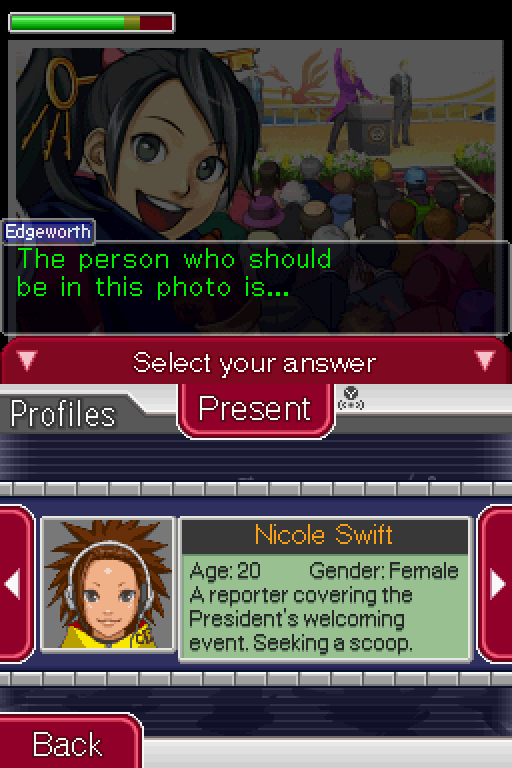 OH SNAAAAAAP. If you'll recall...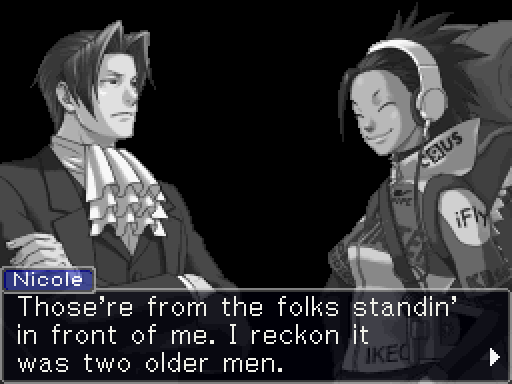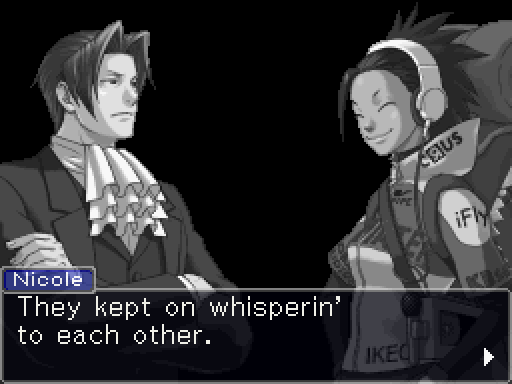 Actually, how come Edgeworth didn't notice this sooner? EDGEWORTH, AN ASSASSIN IS DOING YOUR JOB BETTER THAN YOU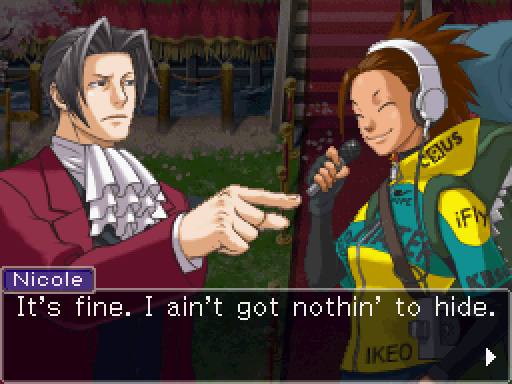 Are you absolutely sure about that, Nicole.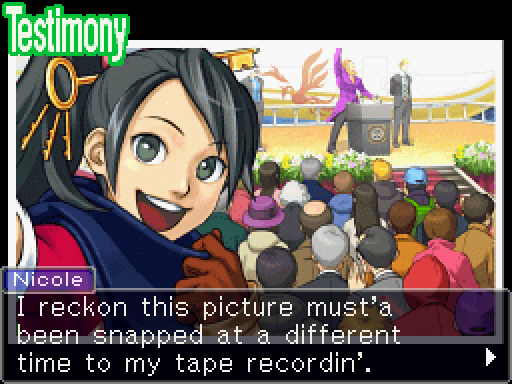 She says she was moving around in the crowd. We'll see about
that!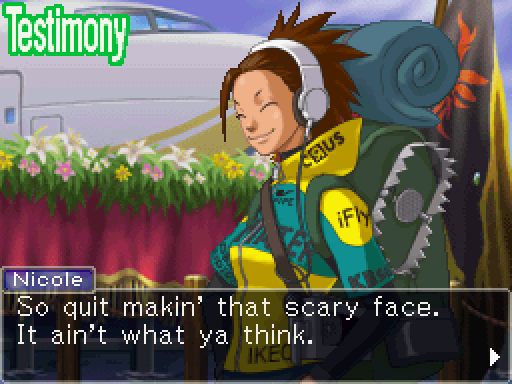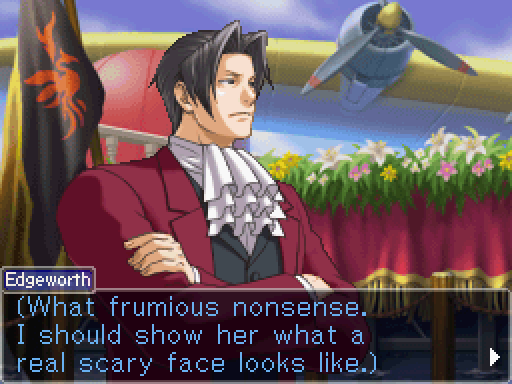 ... "Frumious". I cannot believe that's a fucking word.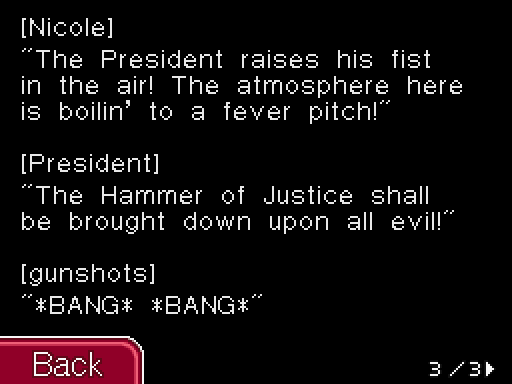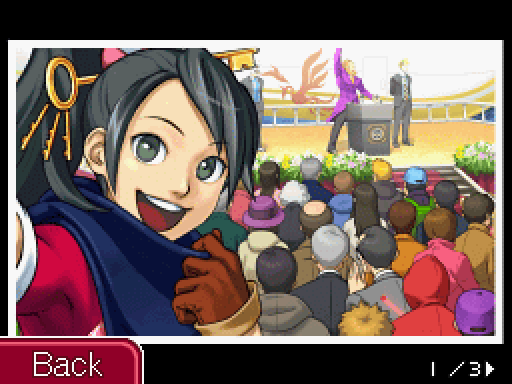 Man, it's really convenient that she pointed out what the President was doing just then. Thanks Nicole, sorry Nicole.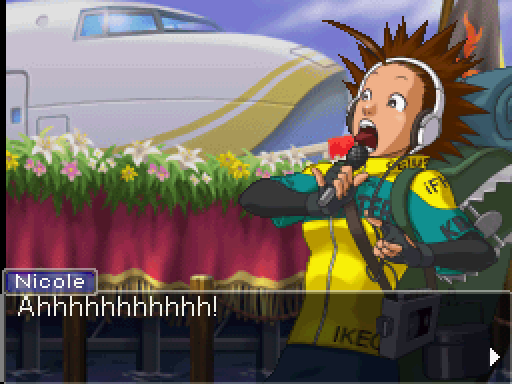 What an
actual twist!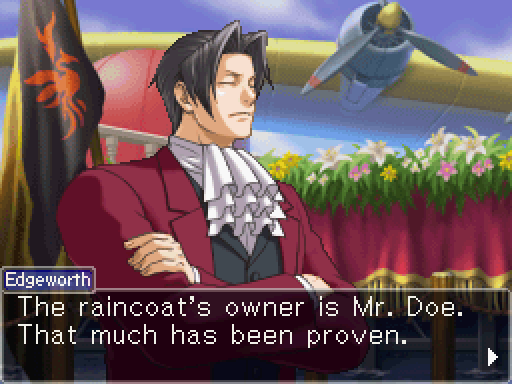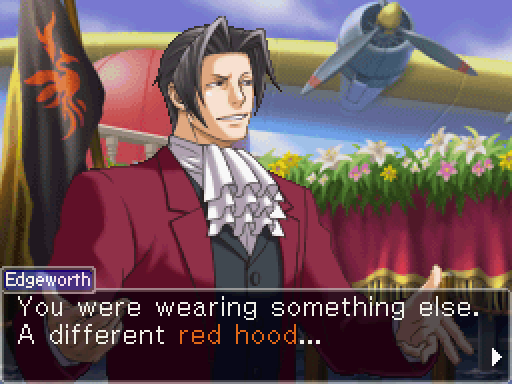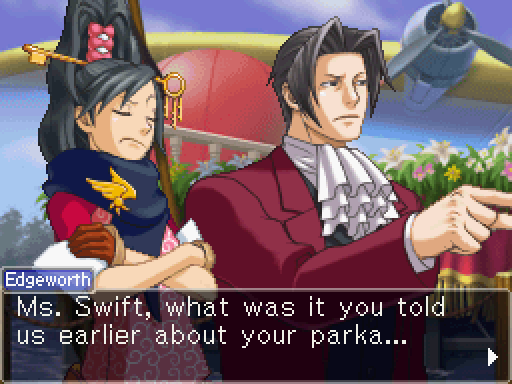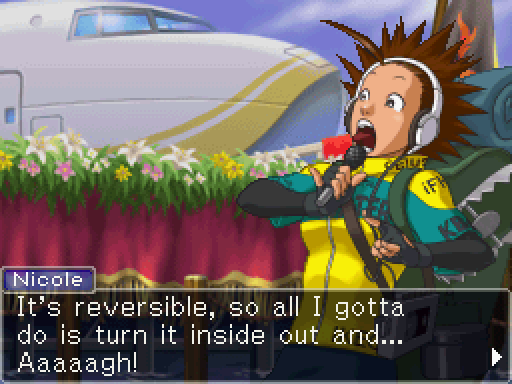 Nicole sort of contributed to her own undoing every step of the way. Whoops!
what are those
noises
BUT SUDDENLY,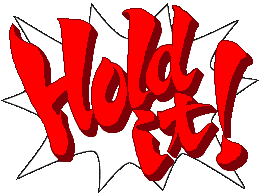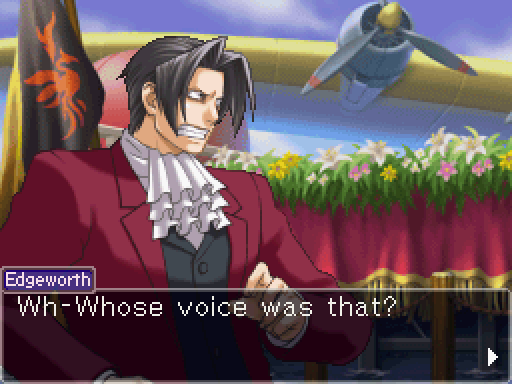 Whose voice, indeed? Who is the doubtlessly imposing new opponent we must face in this mysterious--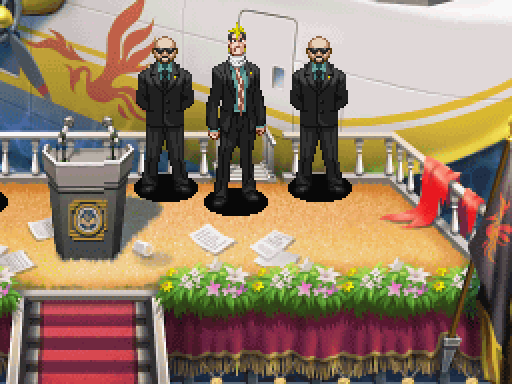 hhhahahahHAHAHAHAHAHA
He's one of the guys in Kay's photos, in case the outrageous hairstyle hadn't tipped you off yet.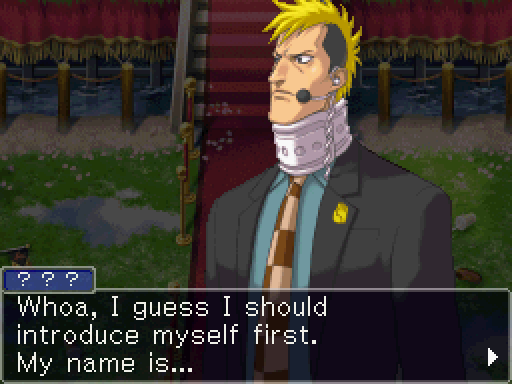 ... Speaking of outrageous, I'd keep all the following screenshots at x2 native resolution if it weren't for my infinite mercy and kindness.
Of course, I could also present this as a gif. I have the means to. I just didn't feel like it. :T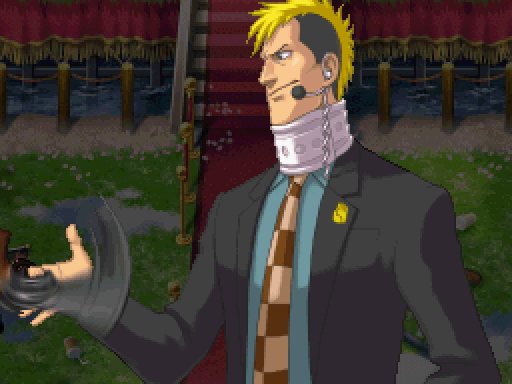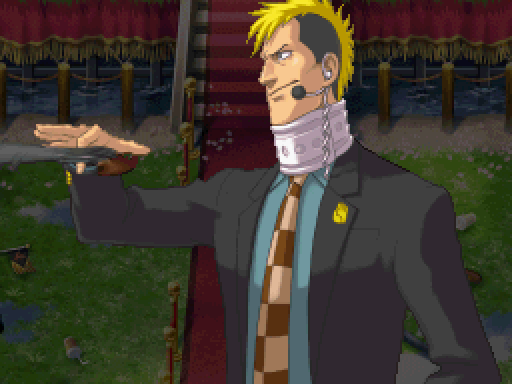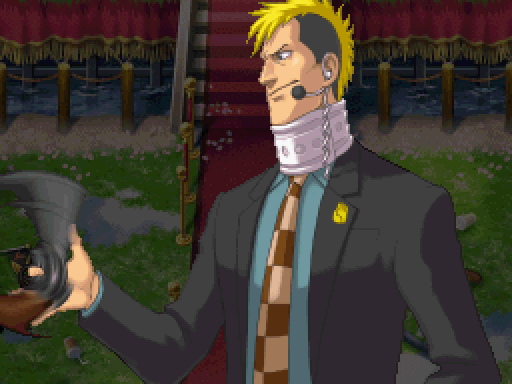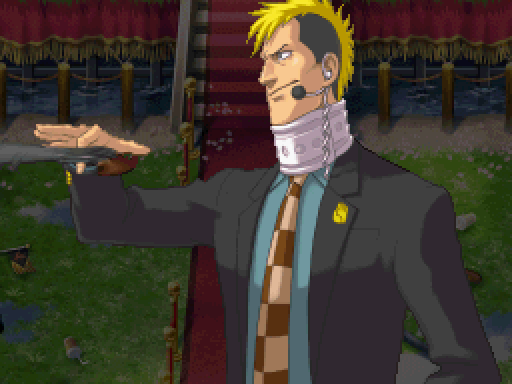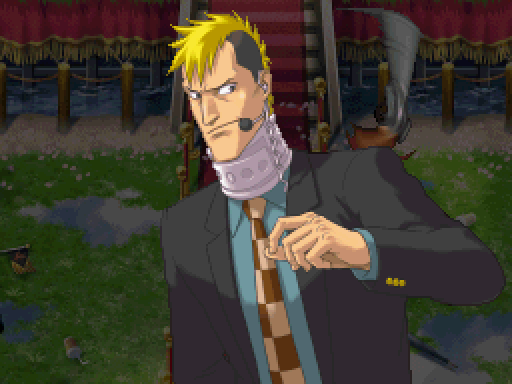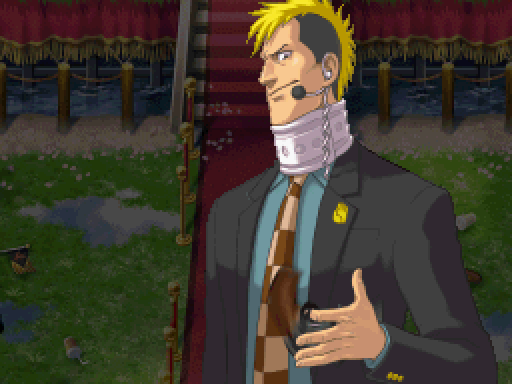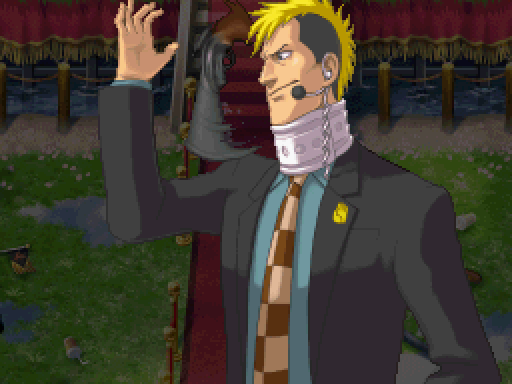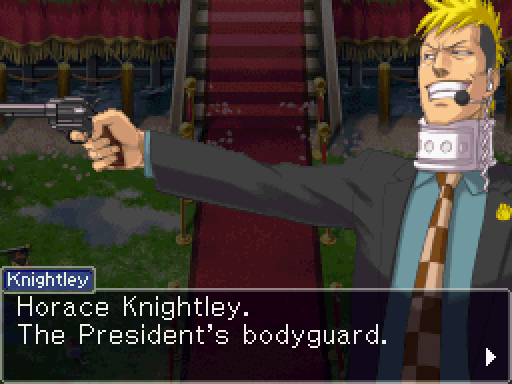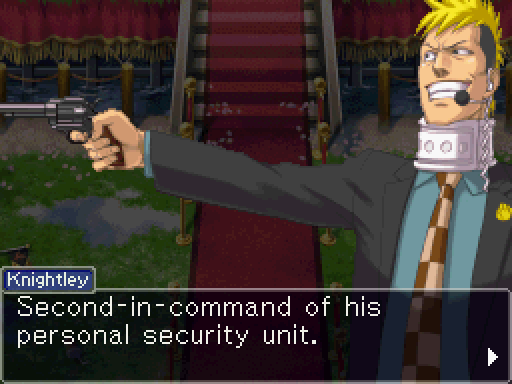 And speaking of outrageous
again
, I bet Shelly's having an aneurysm right about now.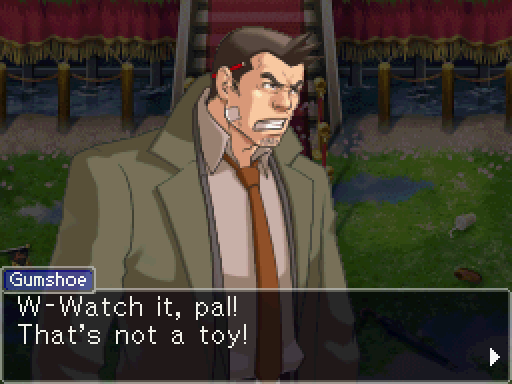 Unfortunately, Gumshoe, gun safety is a phrase absent from Horace Knightley's vocabulary.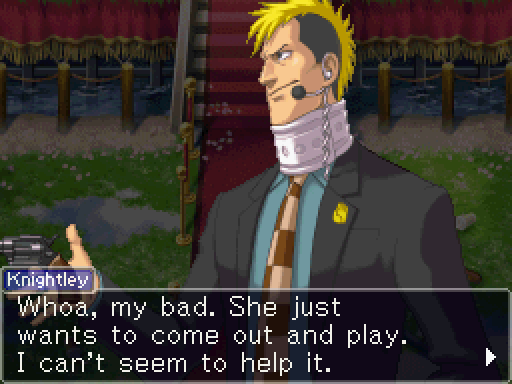 ...He's kind of a weird guy.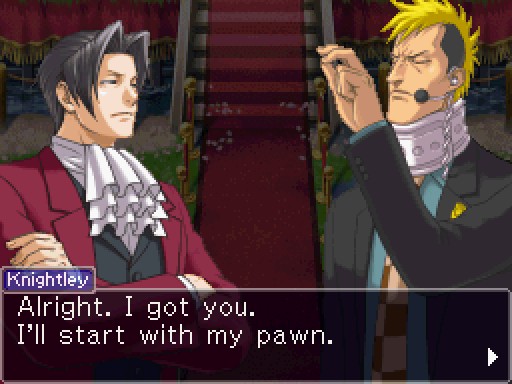 He has good news and bad news, he says! Starting with the good news, then.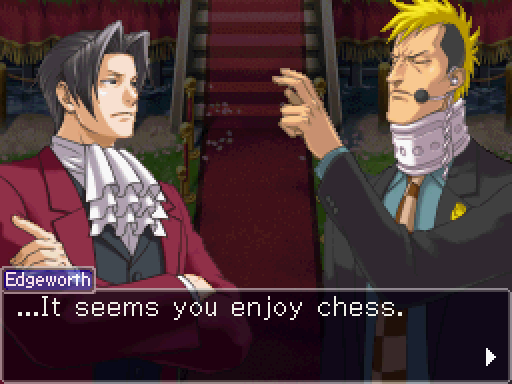 Yes. Yes, Edgeworth, one might say that.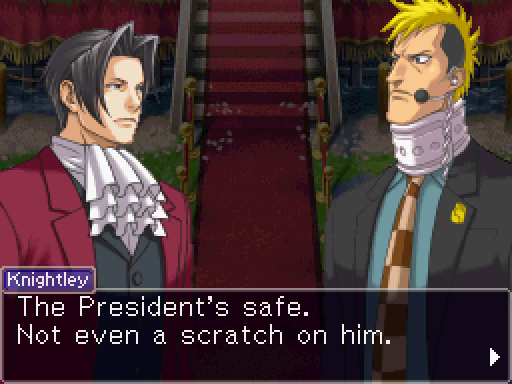 Oh. Well, then, what are we even doing here? Case over, let's go home. What were the bad news again?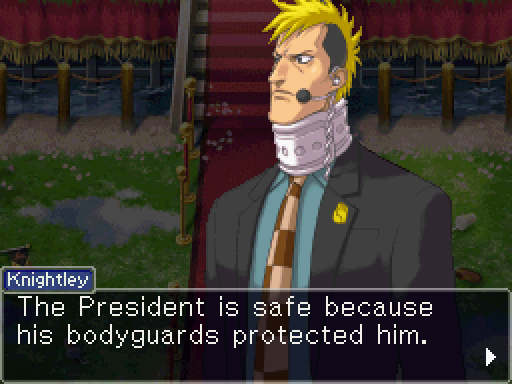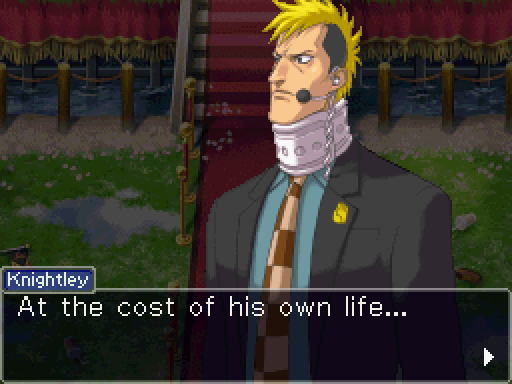 ... Ah. Rest in peace, Ethan Rooke (man I'm way too used to his Japanese name I keep wanting to call him Gai Tojiro).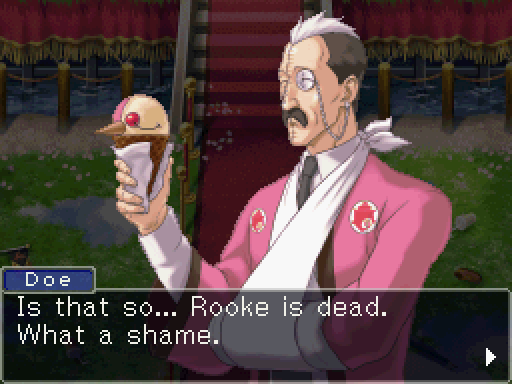 The ice cream sheds a single, delicious tear. And so do I.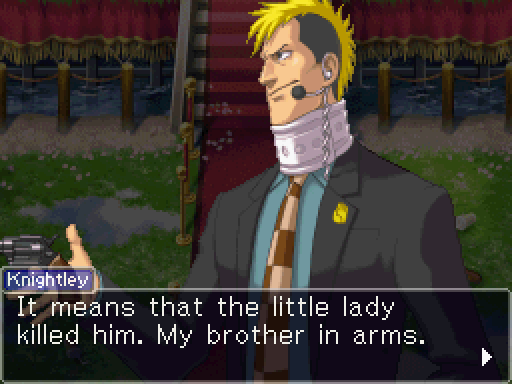 Wait no it doesn't.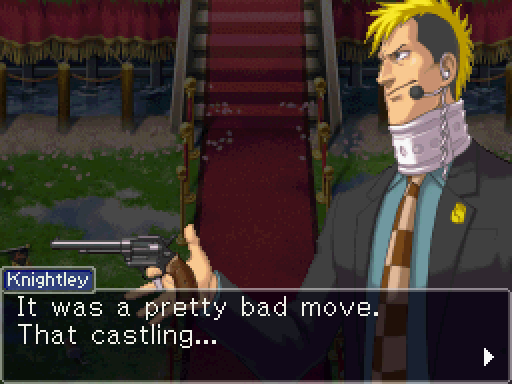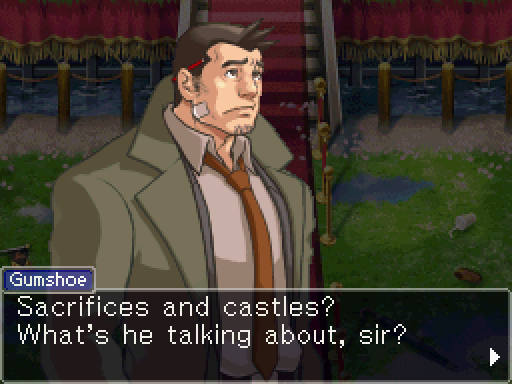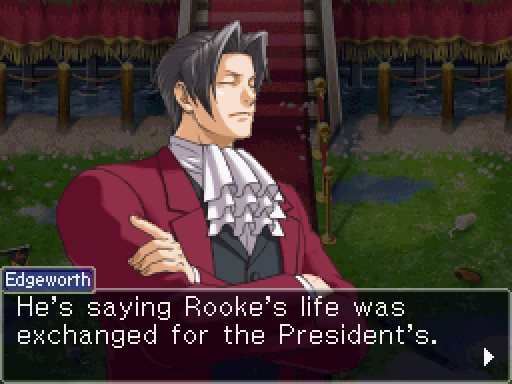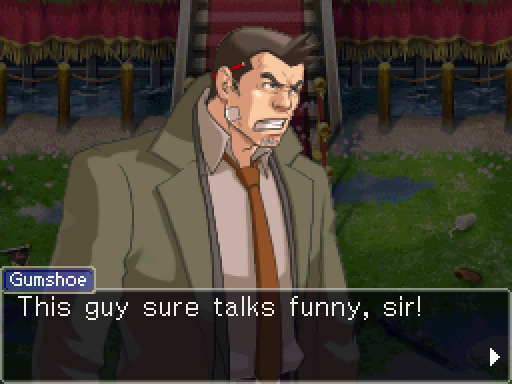 YOU'D BETTER GET USED TO THE CHESS METAPHORS, GUMSHOE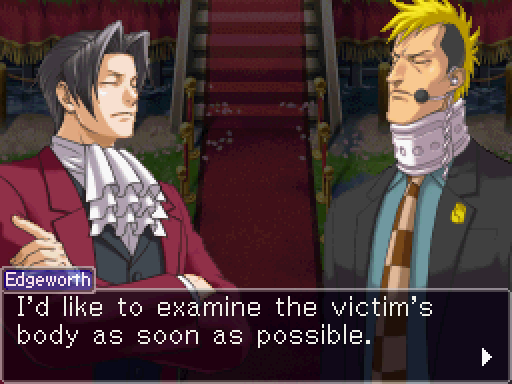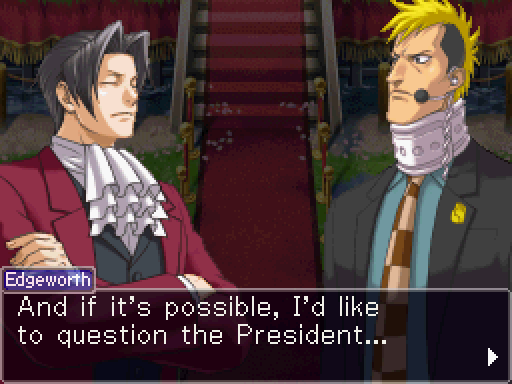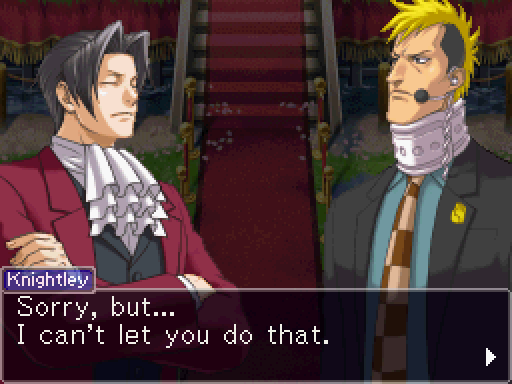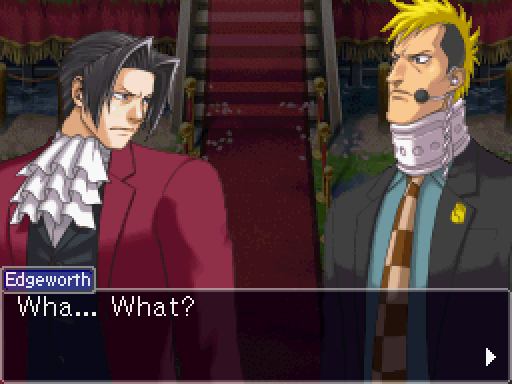 "Because fuck you is why."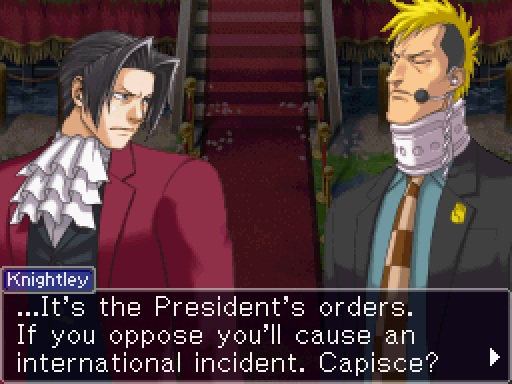 "BECAUSE
FUCK YOU
, IS WHY."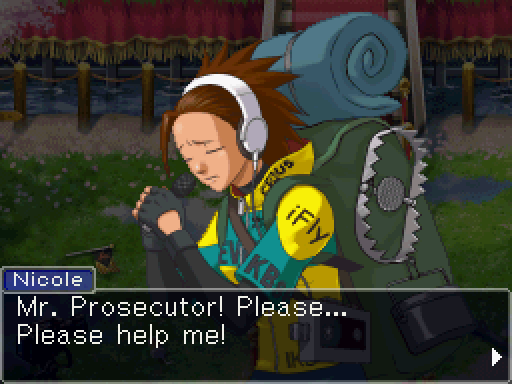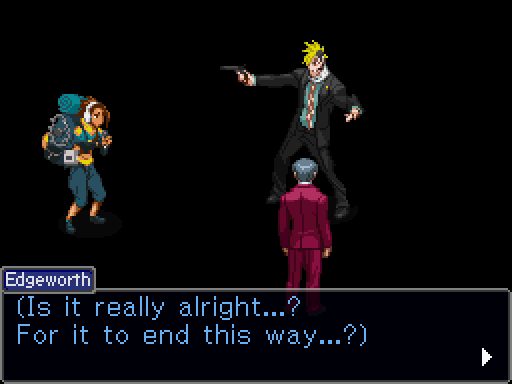 I don't know, but you'd better come to a conclusion soon, because I get the feeling this post is starting to run kinda long.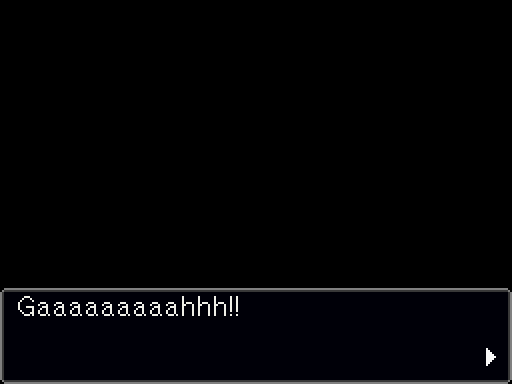 DRAMATIC SOUND EFFECT TIMES 3 YOU KNOW THE DRILL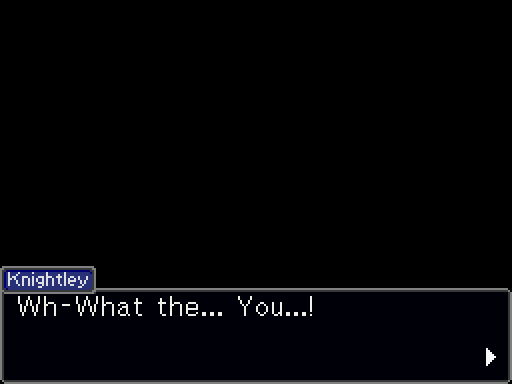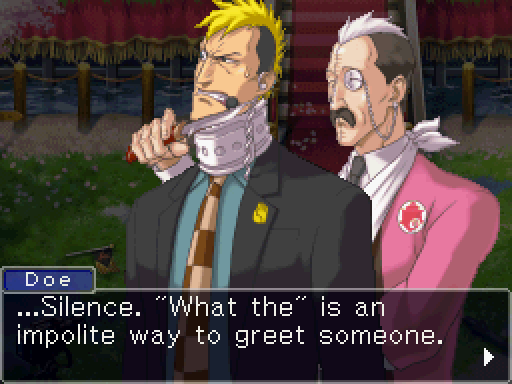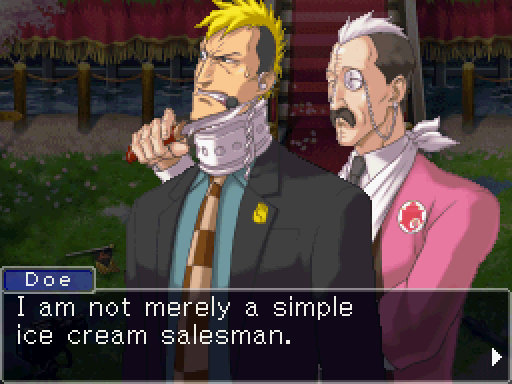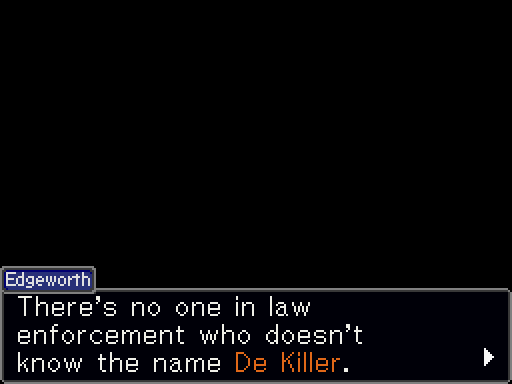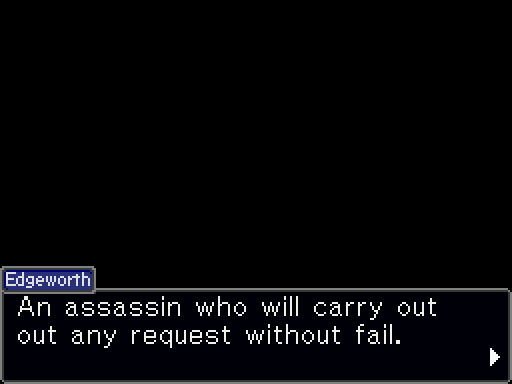 Don't mind me, I'm just savouring the moment. What? Riveting commentary? Oh, right.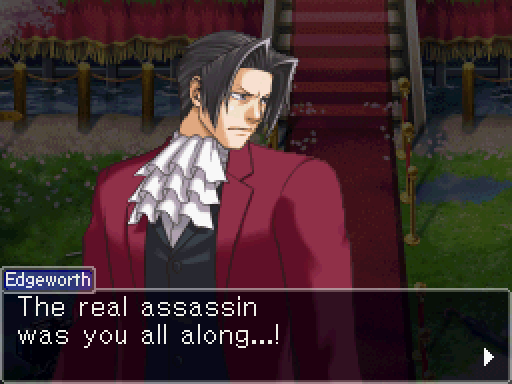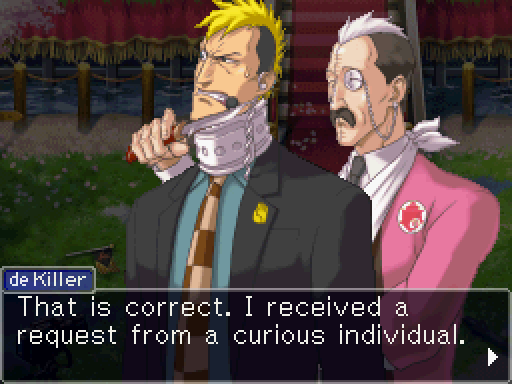 You haven't done that yet though! :T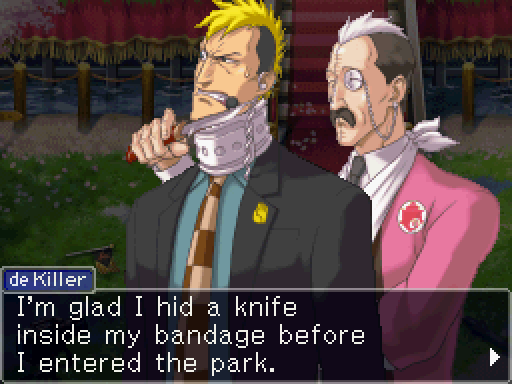 NEVER HURTS TO BE PREPARED, AM I RIGHT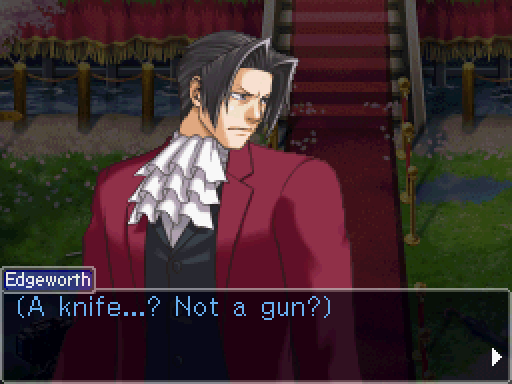 ... Oh, yeah, there's that too.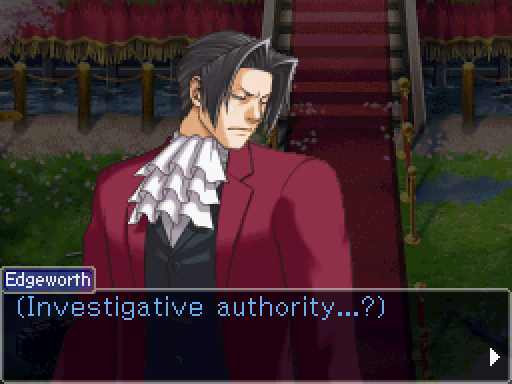 Oho!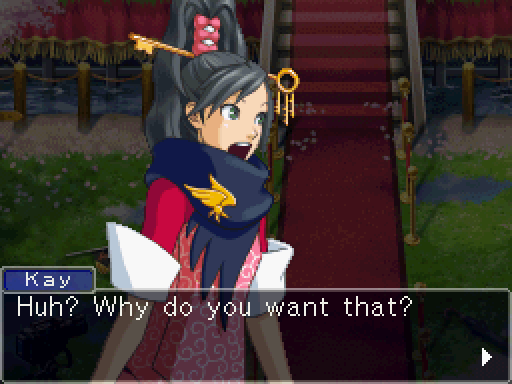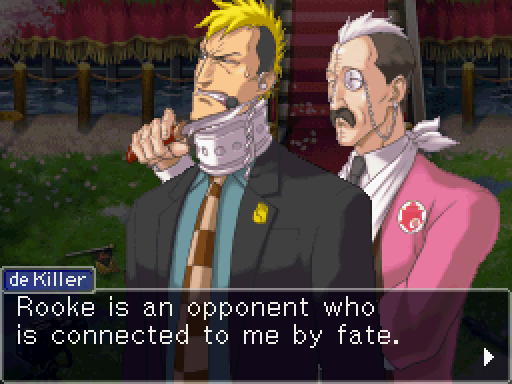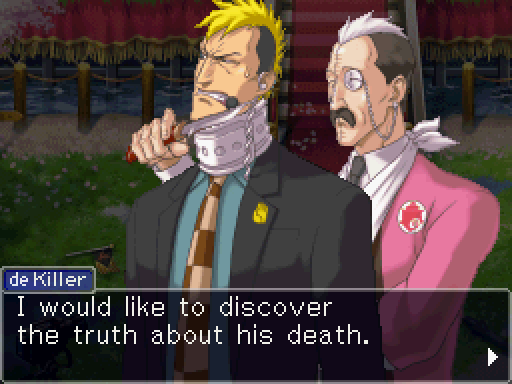 And also, you know...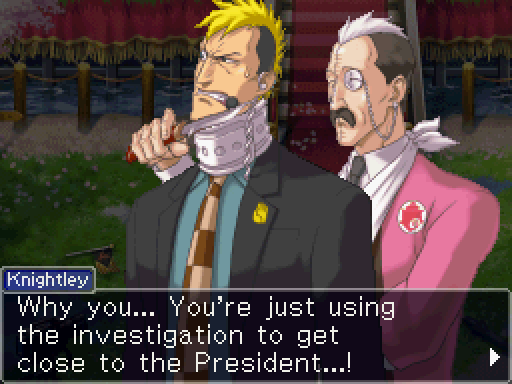 That's just a bonus though!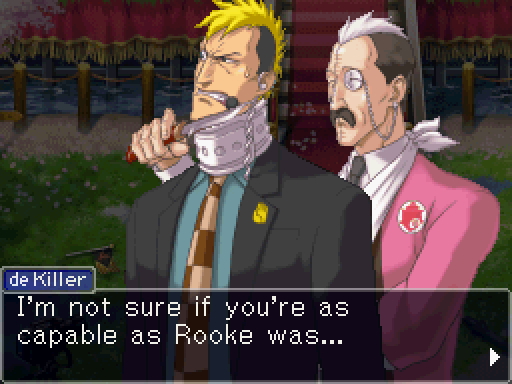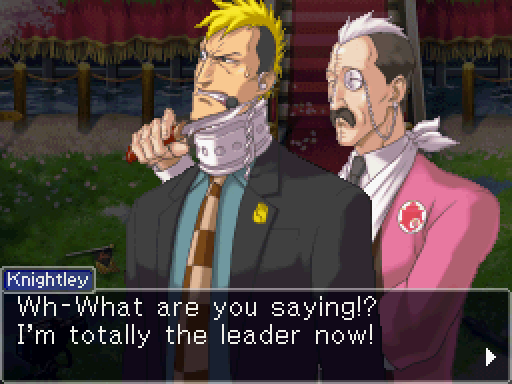 I'm not even kidding here, Shelly has MAD RESPECT for Rooke. You'll see.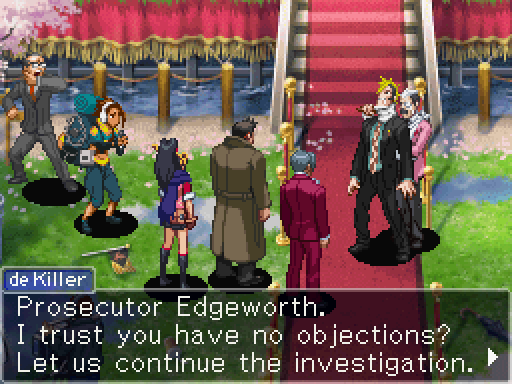 "it is a play on words regarding your profession, you see"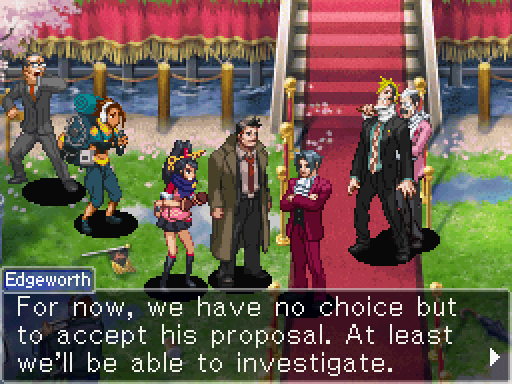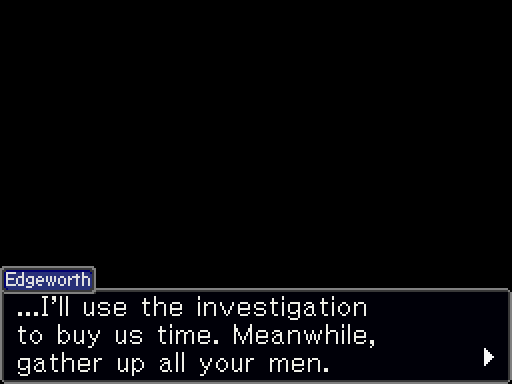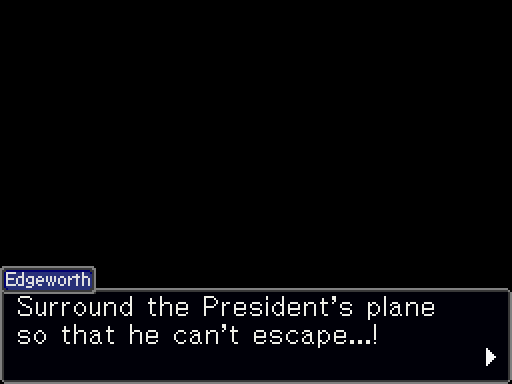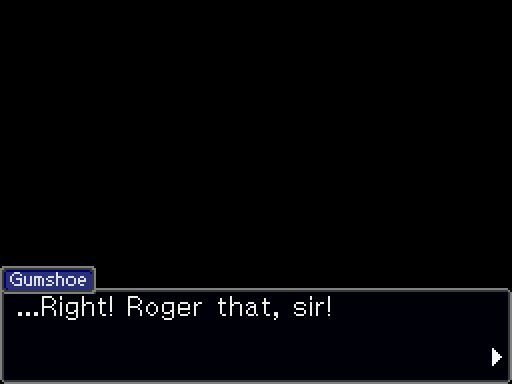 WE'LL SEE THE RESULTS OF EDGEWORTH'S PLAN... NEXT TIME