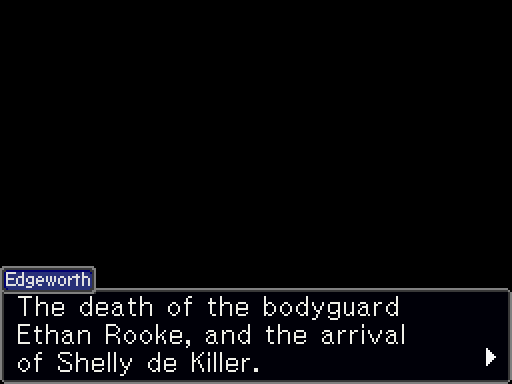 You know, Shelly was kind of there all along, he didn't just spring up all of a sudden to hold a knife up to Knightley's neck.
Rooke is super dead. 8(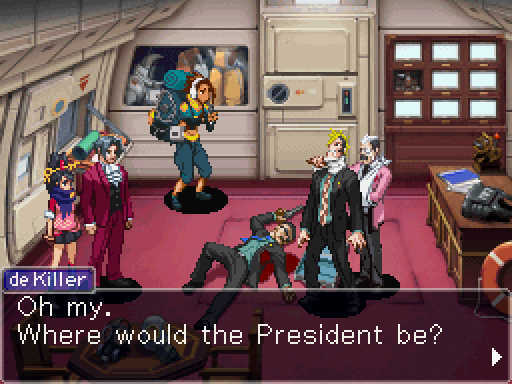 Oh, Shelly.
It seems the President is just beyond that door!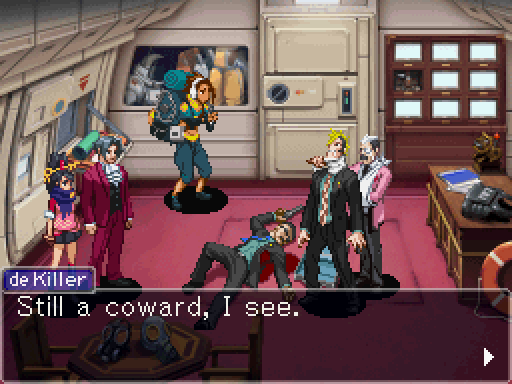 Whoa man that's kind of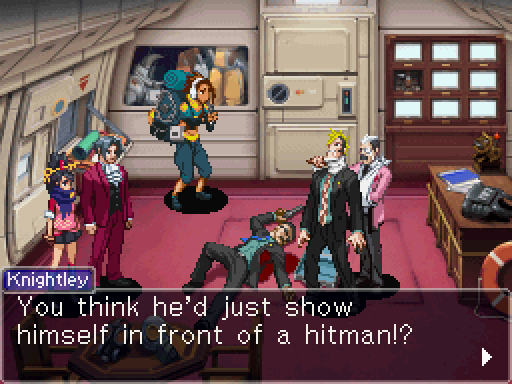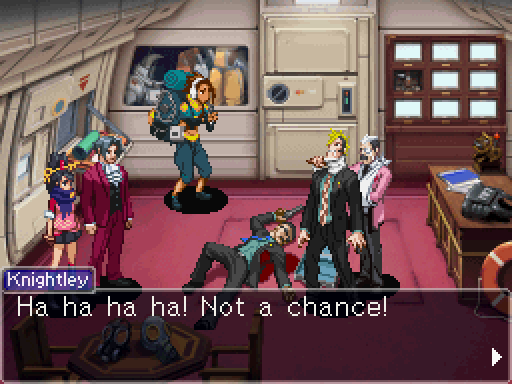 Knightley, please, he is an
assassin
.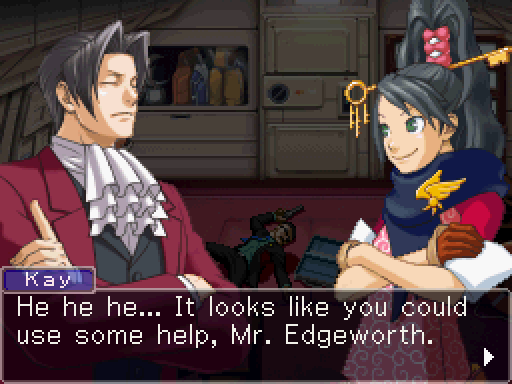 Spoilers: Kay doesn't really help out all that much here. In any case, we need to buy time for the police! And what better way to draw things out than...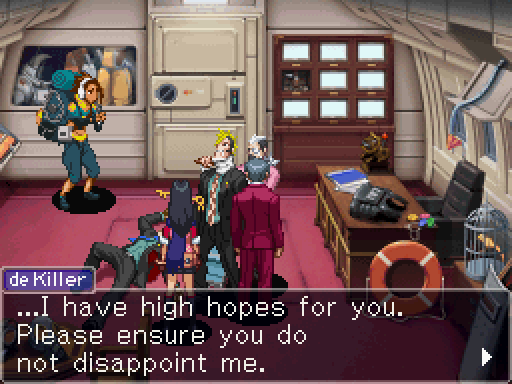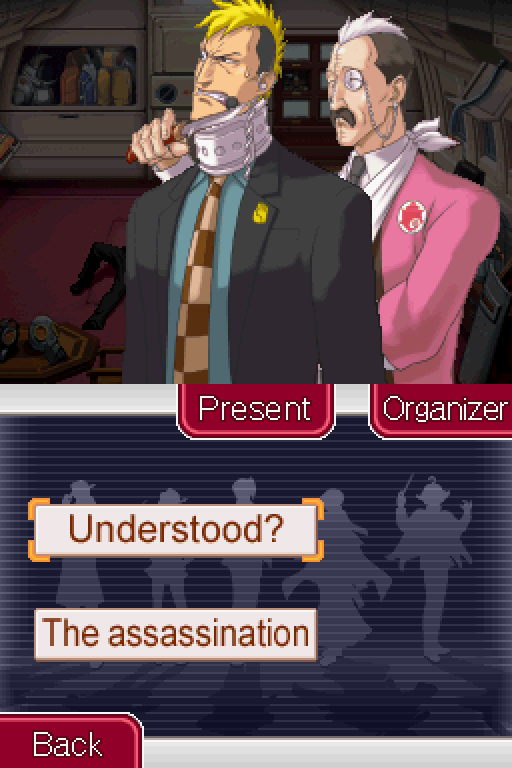 GIGGLES EXCITEDLY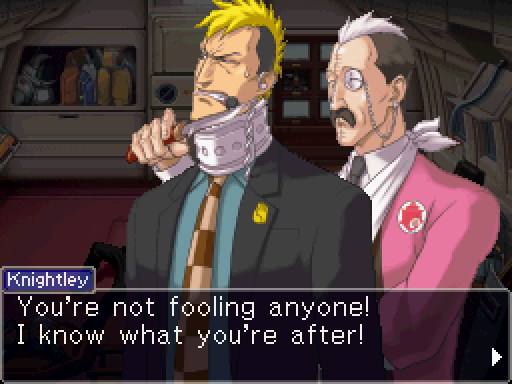 A resolution to this murder mystery?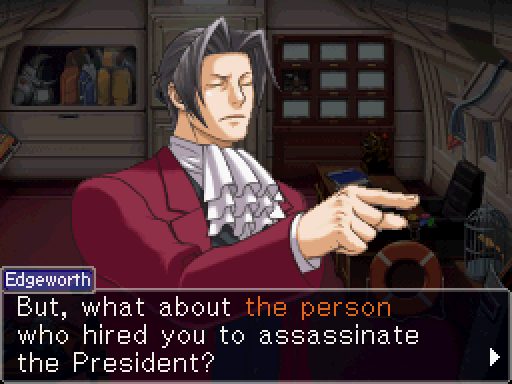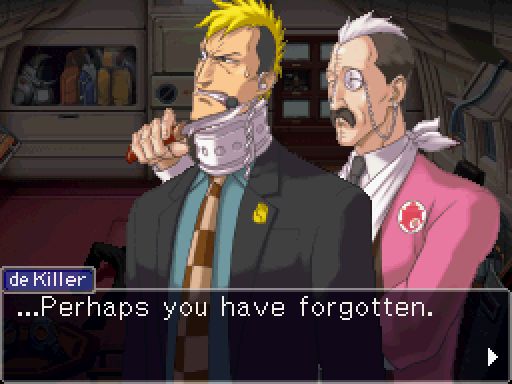 I.... think he's referring to how he'll kill Knightley if Edgeworth (or Knightley himself) steps out of line but I REALLY DON'T SEE HOW THAT ANSWERS HIS QUESTION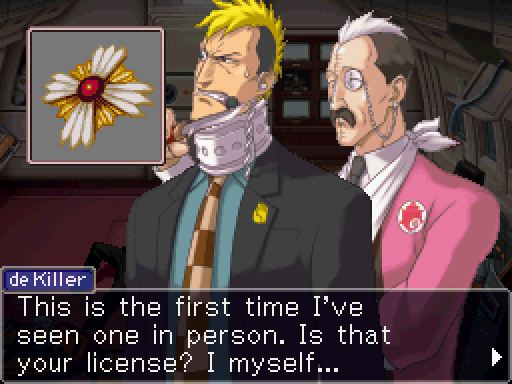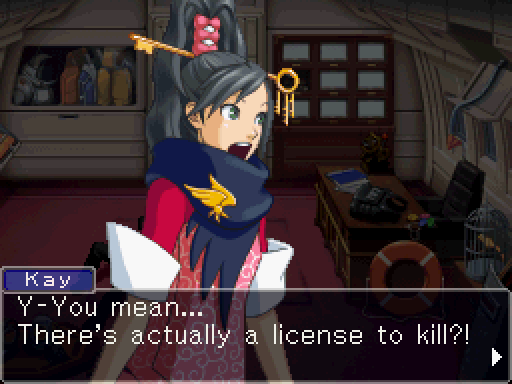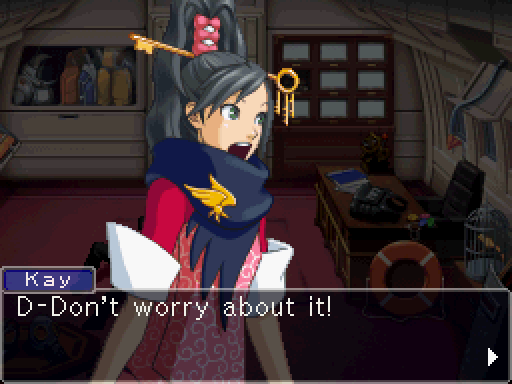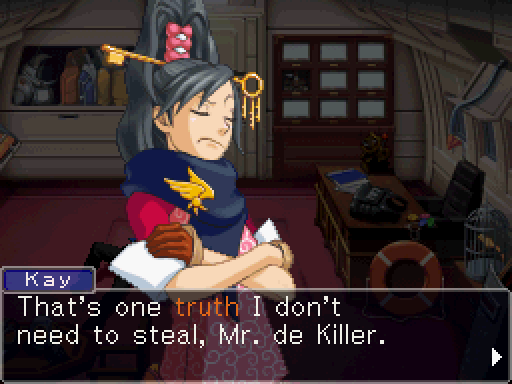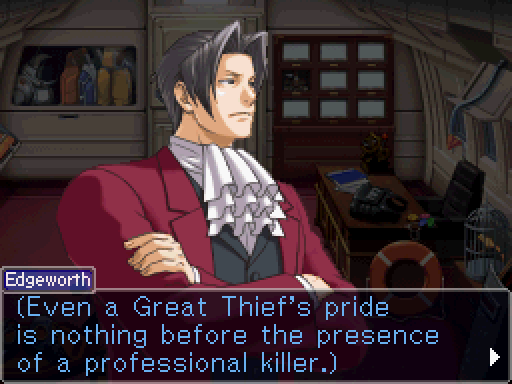 ... I just thought this exchange was oddly cute, don't mind me.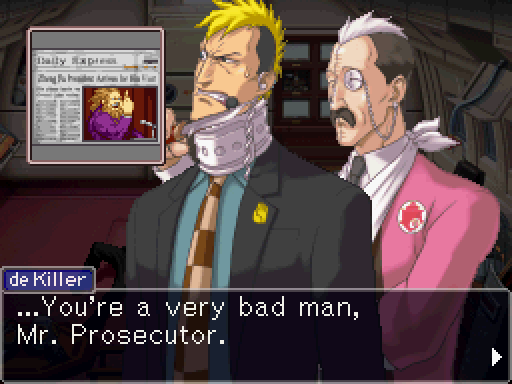 Do not let the kink meme find this.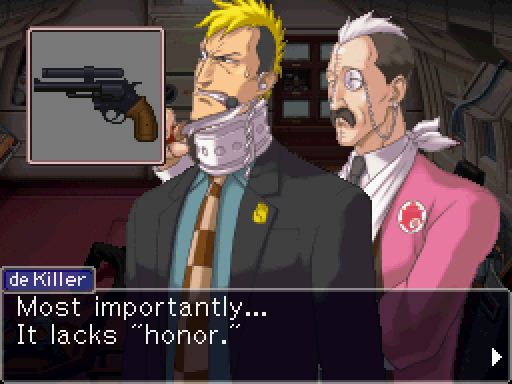 Does... Does he mean just the laser scope, or...?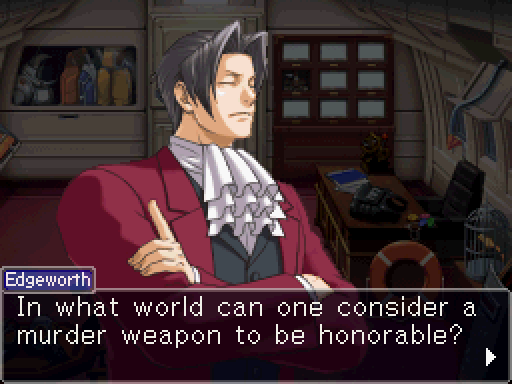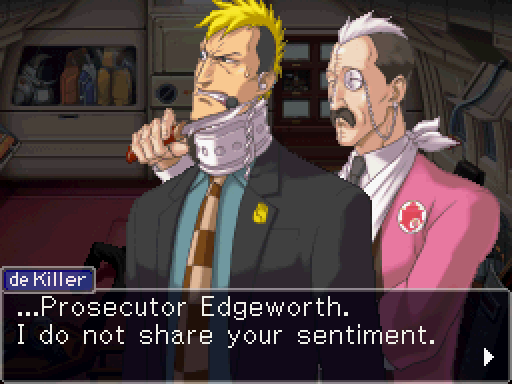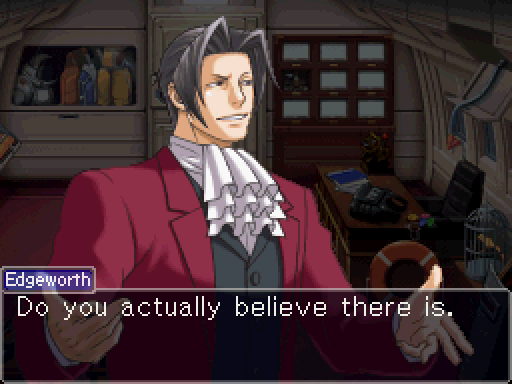 (Kay just cuts him off)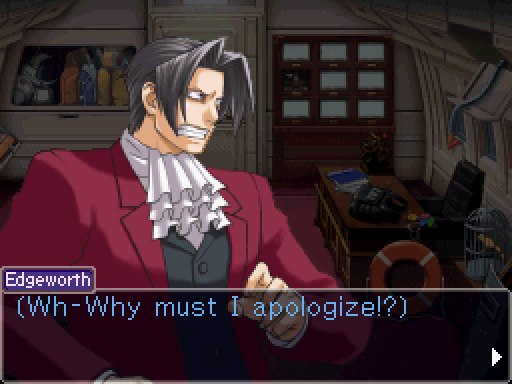 My notes read "
(ok I thought this whole exchange was pretty great too but I REALISE I CANNOT SIMPLY SCREENSHOT EVERYTHING TO DO WITH SHELLY, WE MUST MOVE ON)
". YOU'LL FIND I FAILED TO RESIST THE TEMPTATION ONCE MORE, A LITTLE LATER ON but... but I think it was worth it.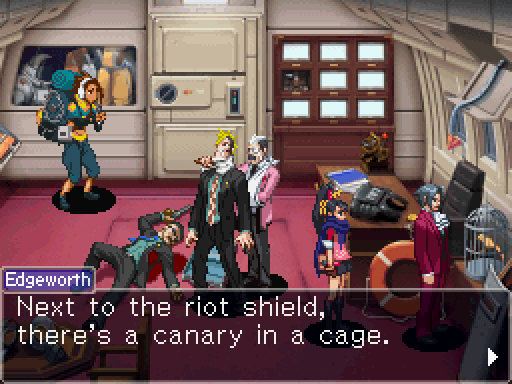 I don't think that canary is there as a pet. Edgeworth has the same thought. :(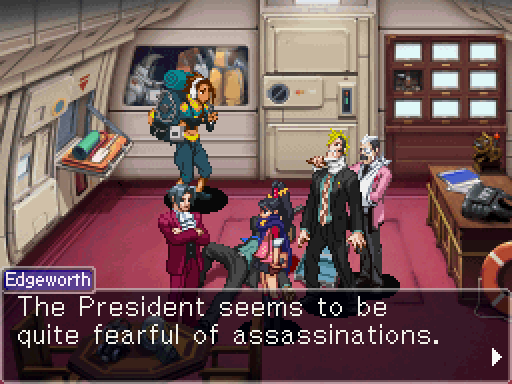 And terrorists too. Definitely terrorists.
Ah yes. The monitors that monitor the views. The views are well monitored by these monitors.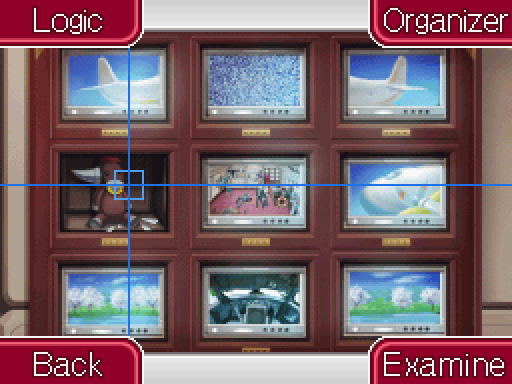 COULD THERE BE SOMETHING AMISS HERE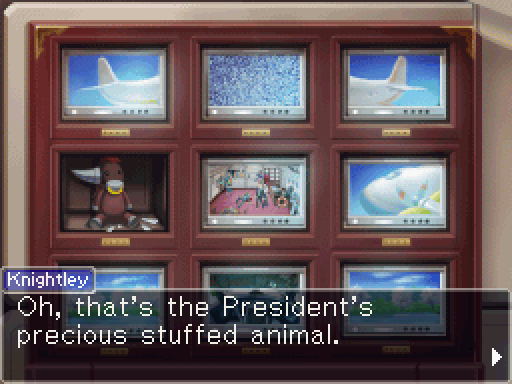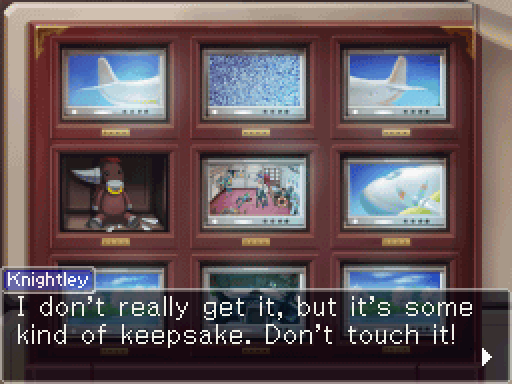 Aw, how cute. But hey, there's glass shards there!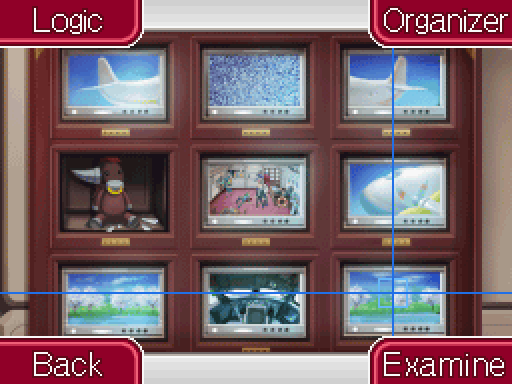 Now I'm being very careful and saving, because as I learned the hard way, you can only see the following dialogue exactly as presented one time, for some reason. LUCKILY THE DISCOVERY OF THE OBVIOUSLY BROKEN MONITOR WAS LITERALLY THE ONLY PLOT FLAG I'D TRIGGERED SO FAR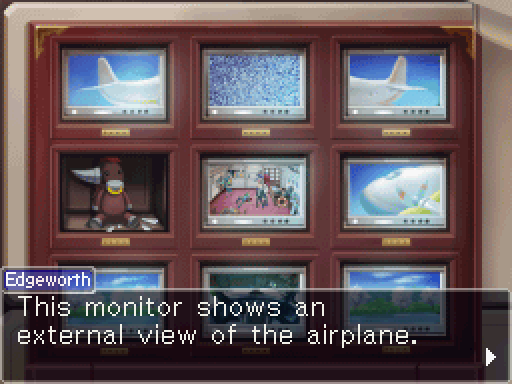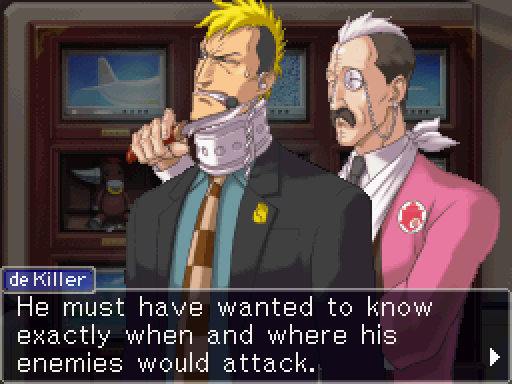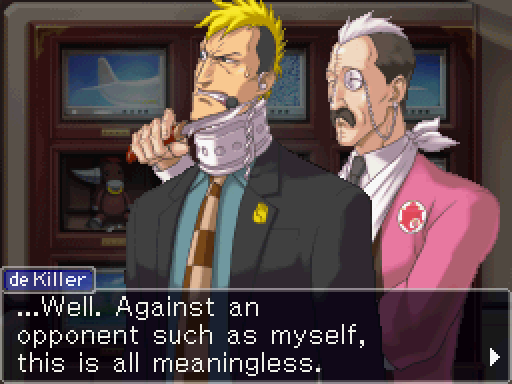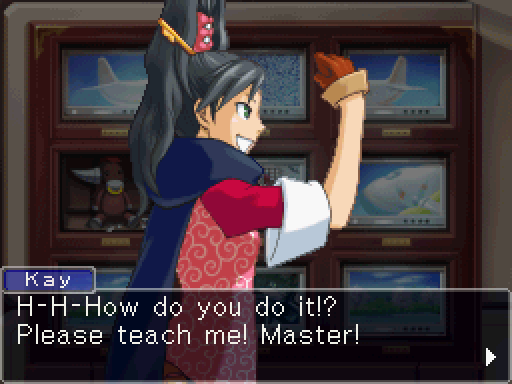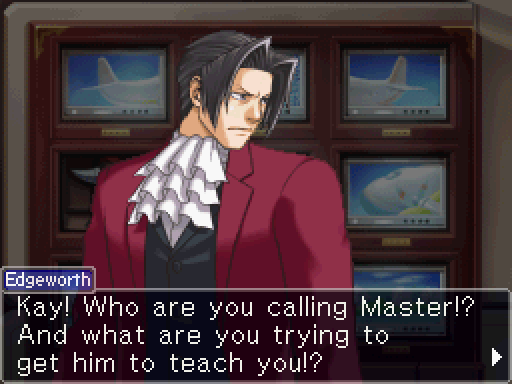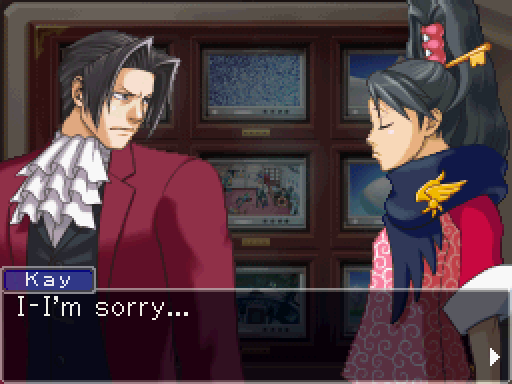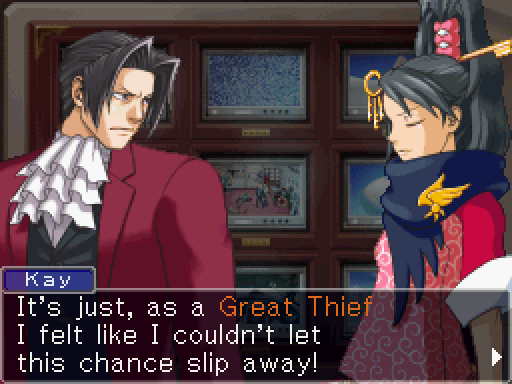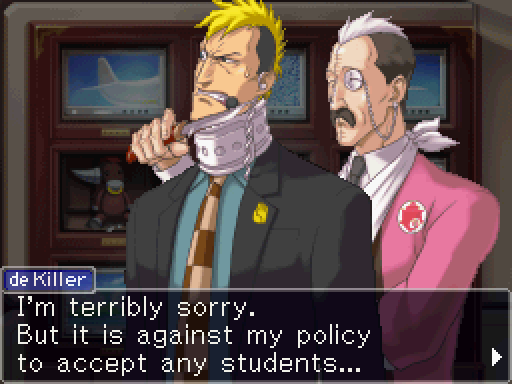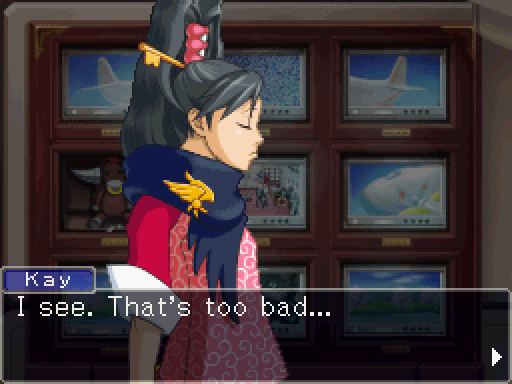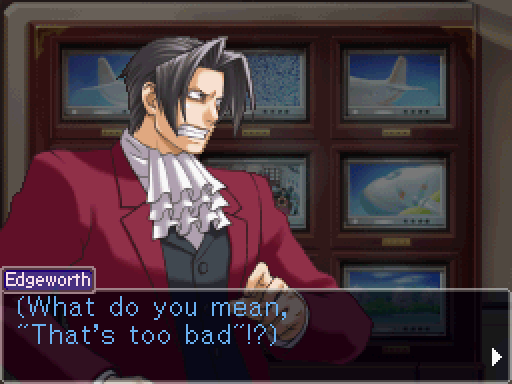 AS YOU CAN SEE, THIS EXCHANGE FEATURES SMUG SHELLY, KAY BEING FUNNY AND quite possibly the sound of my headcanons shattering
(unless what Shelly means is that he does not take mere students; he will take one sole successor under his wing, polish their skills to perfection and turn them into a killing machine worthy of the de Killer name)
. If you try examining the same spot again...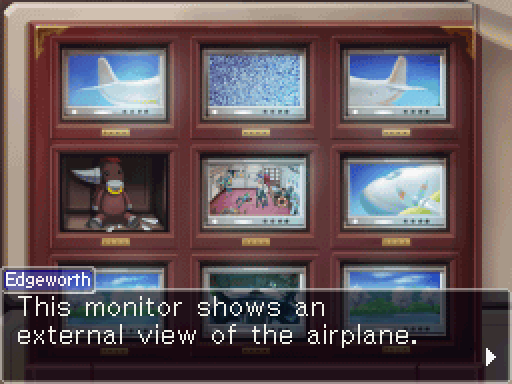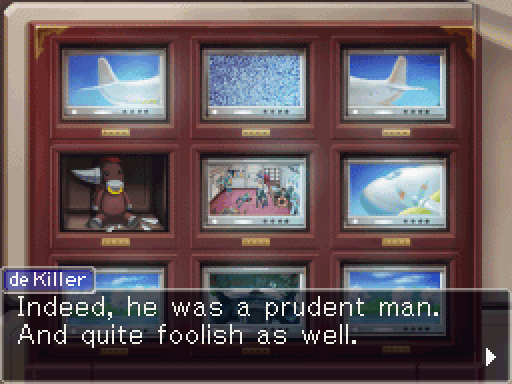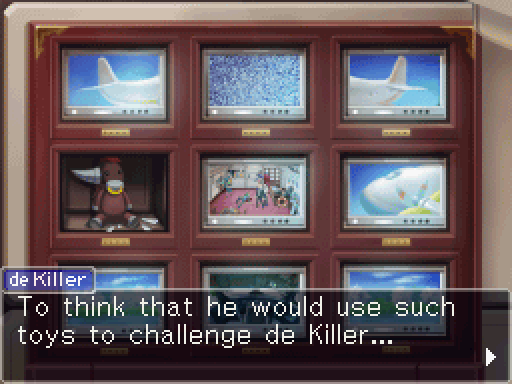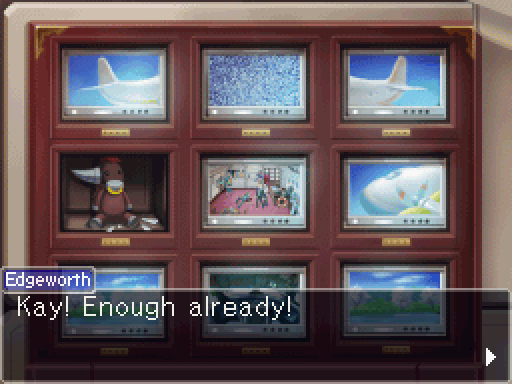 It just sort of goes like this. It's pretty weird.
... ZBI. Hey let's take a look at those papers on the desk. The ones you can just barely see under the Logic Box. I'm great at screenshots.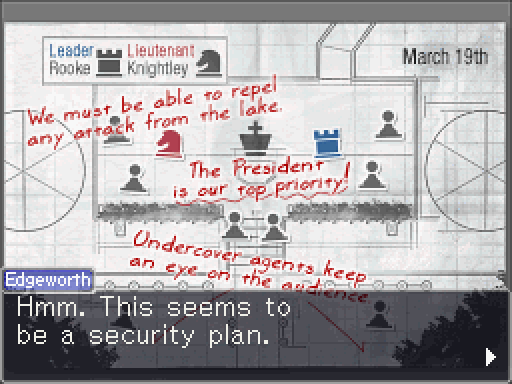 Well
. :U It shouldn't be too hard to see what's wrong!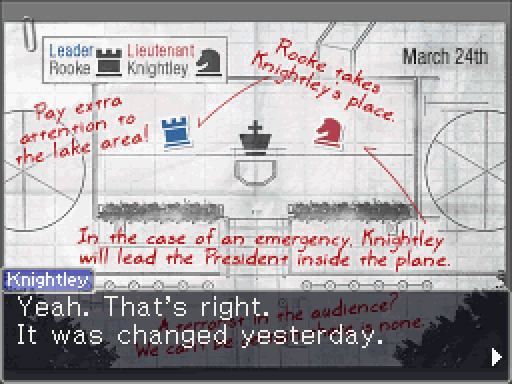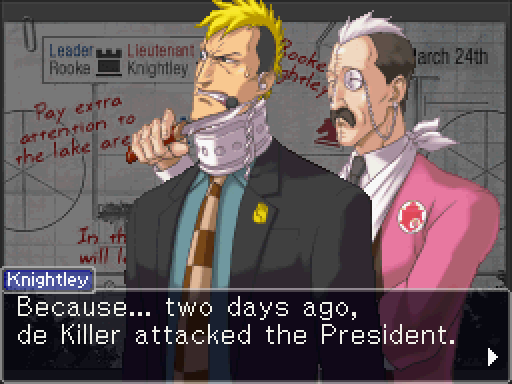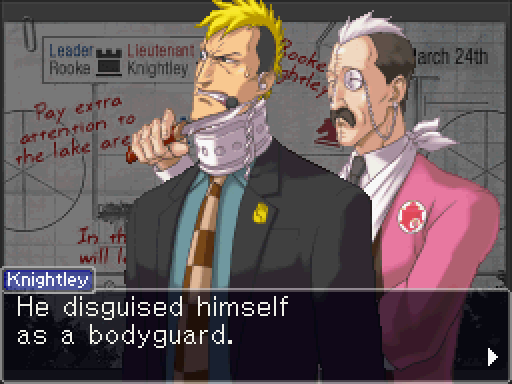 "And nobody really noticed he wasn't a regular at the firm, I guess? Honestly I don't know how he does it."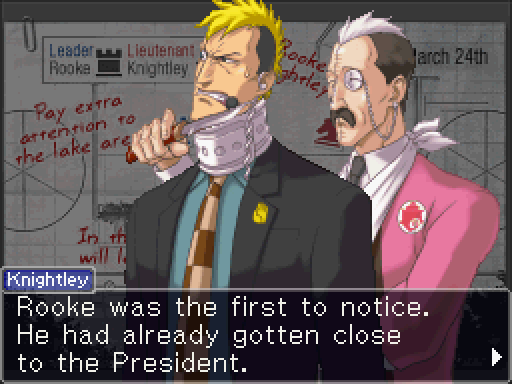 Oh. 8)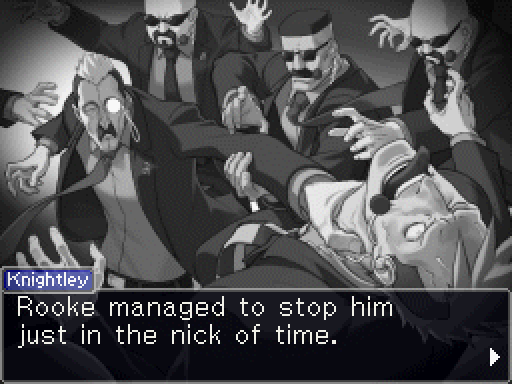 NOW IMAGINE NAEM, A COUPLE OF YEARS AGO, PLAYING THIS BLINDLY IN JAPANESE, JUST CLICKING ALONG
AND BEING FACED WITH THIS OUT OF THE BLUE
IMAGINE HOW I FELT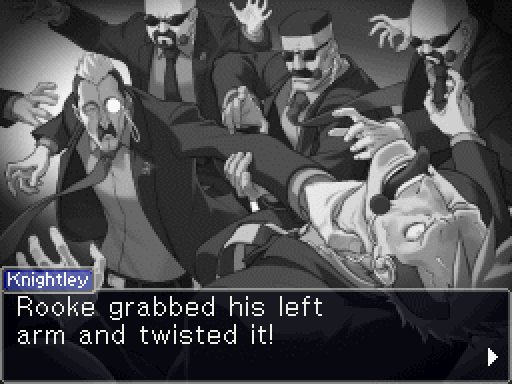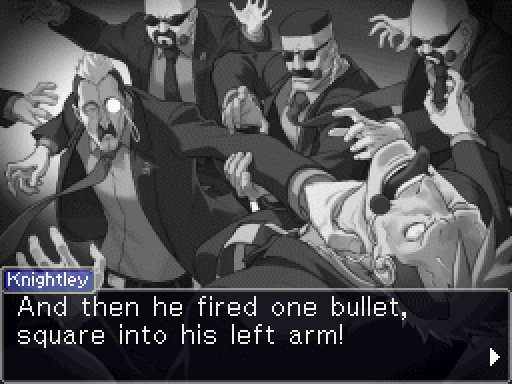 Overkill?? Maybe not, when it's a guy like de Killer. Who knows.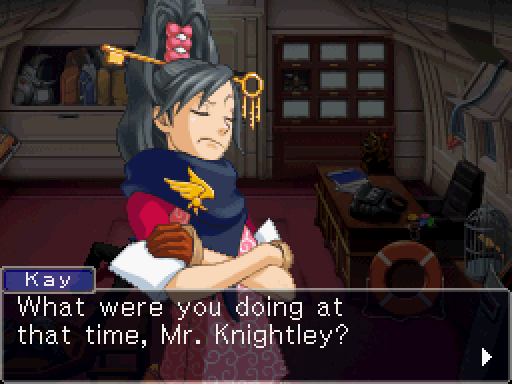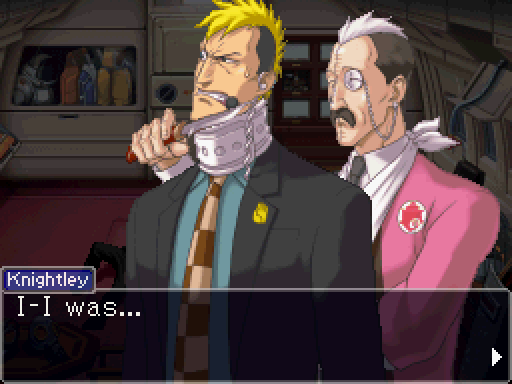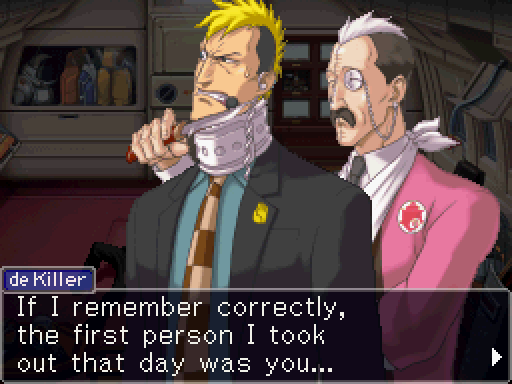 ... The first, he says.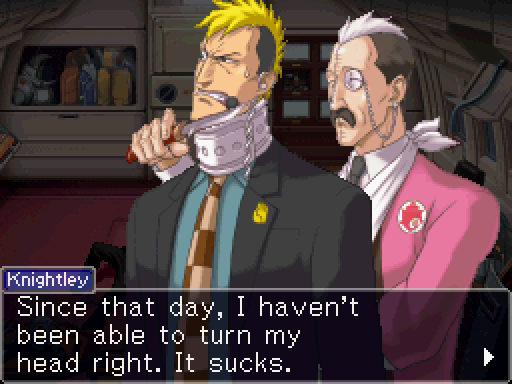 Hence the most immediately noticeable change! In case you find it weird that the number of bodyguards up on stage decreased as well, this was done because the President was afraid someone might to disguise themselves again, and so he chose to have only his closest men up there with him.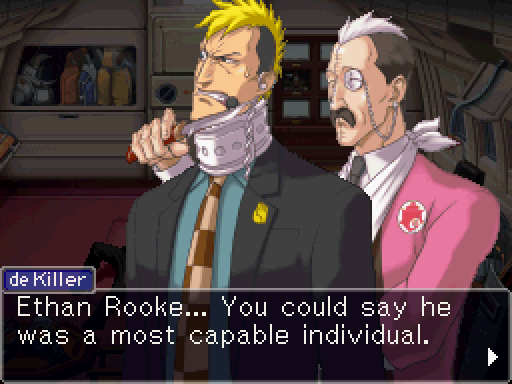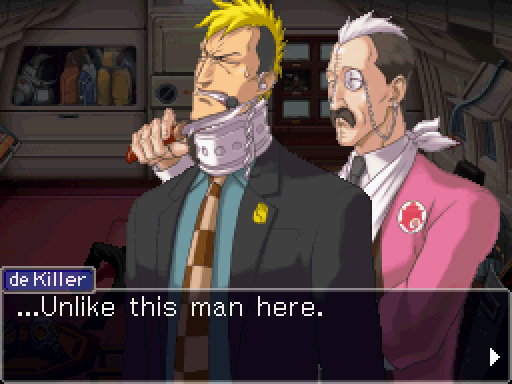 YOOOOOOOOO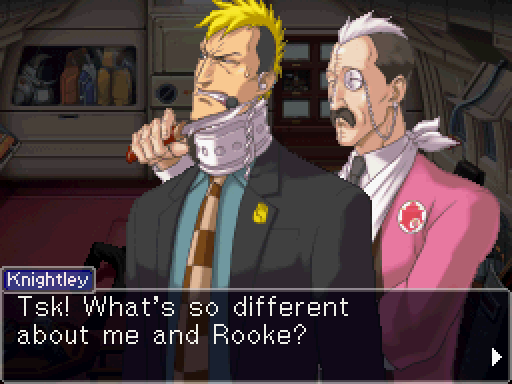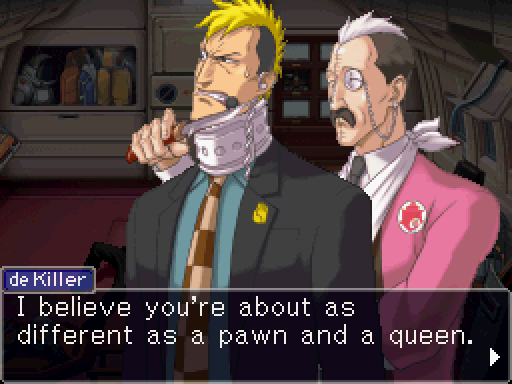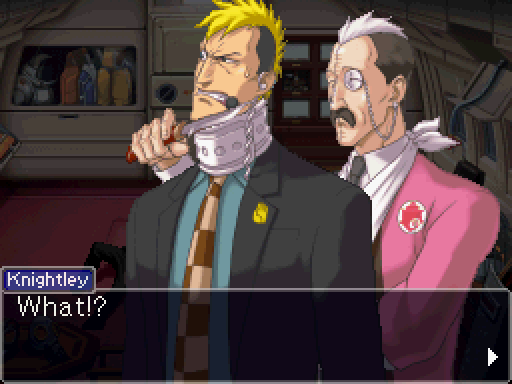 YOOOOOOOOOOOOOOOOOOOOOOOOOOO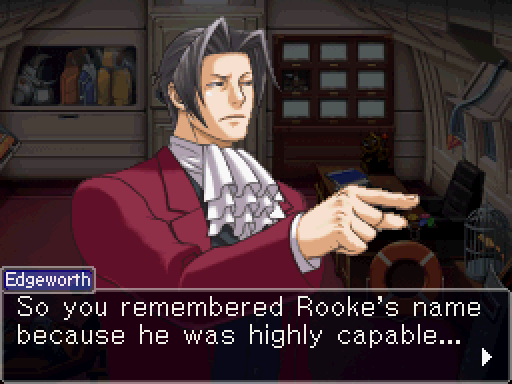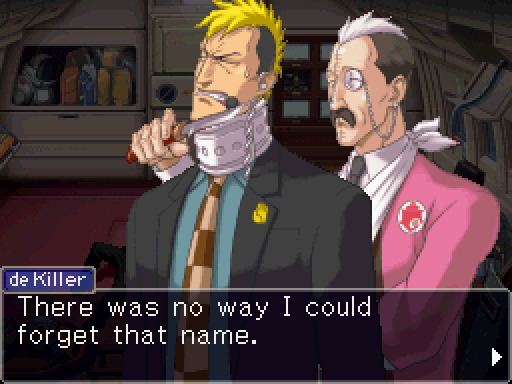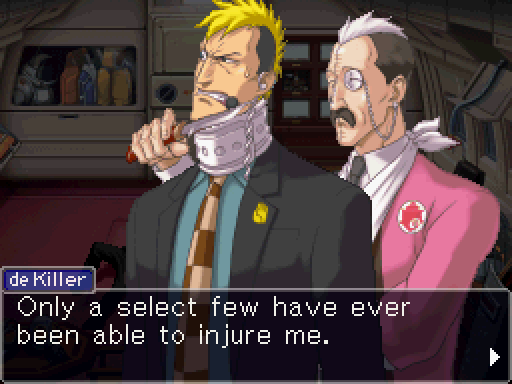 And so an undying love was born. I mean bond. An undying bond.
Also Logic.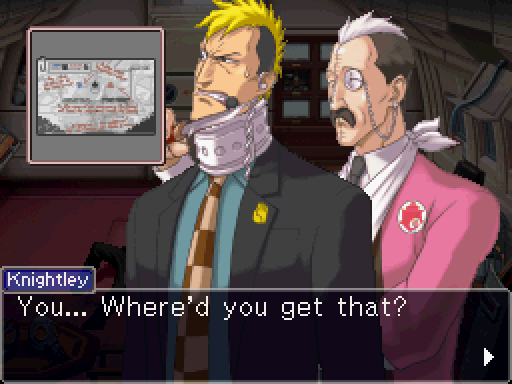 ... Do you mean us because these were just on the desk-- Oh, wait, we found the updated ones in the trash. Right.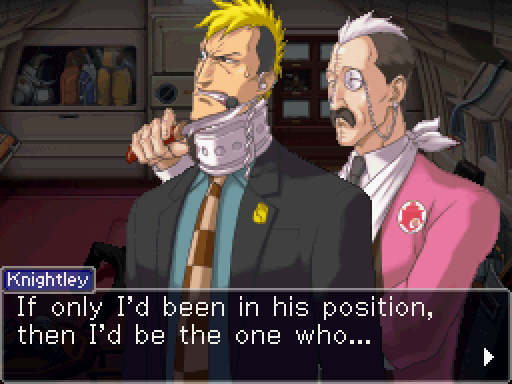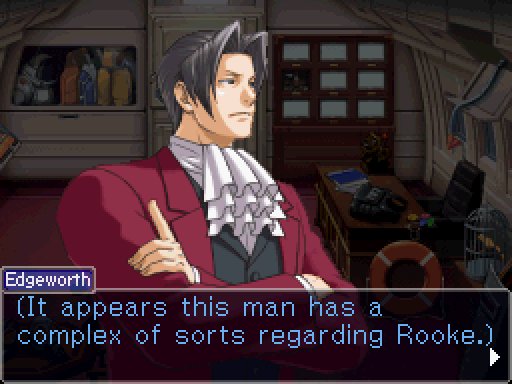 You... don't say.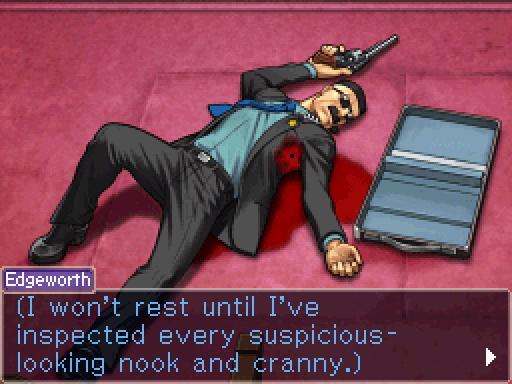 We have to do it. We have to look at this majestic body.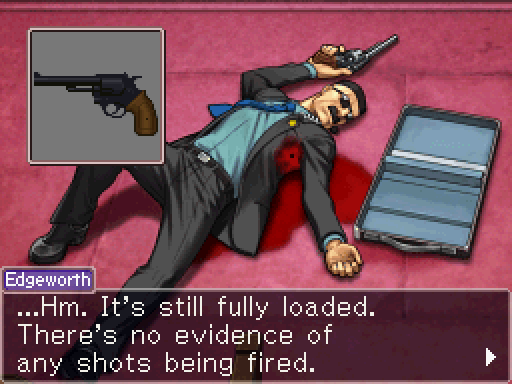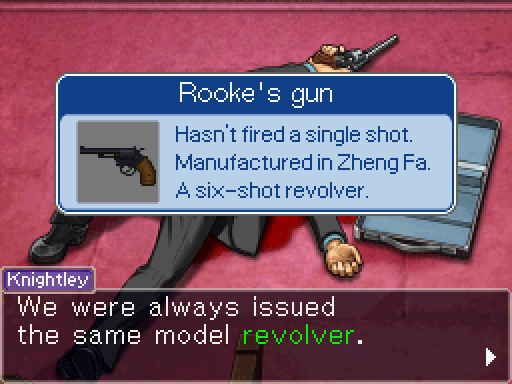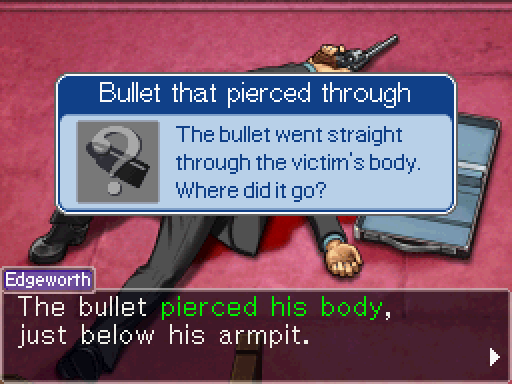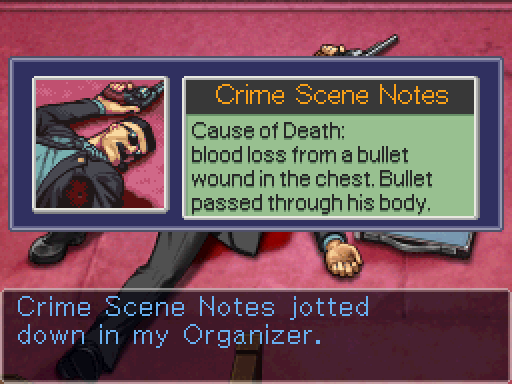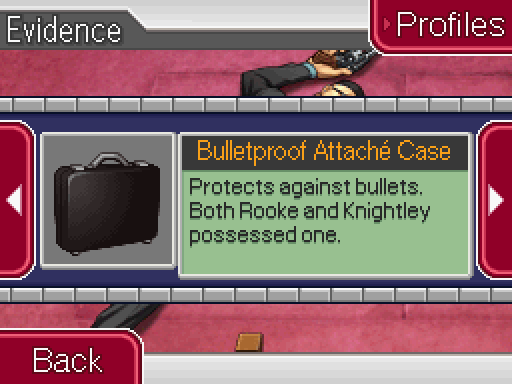 Important stuff! I think this is all we get from examining the body, which means it is time... FOR LOGIC.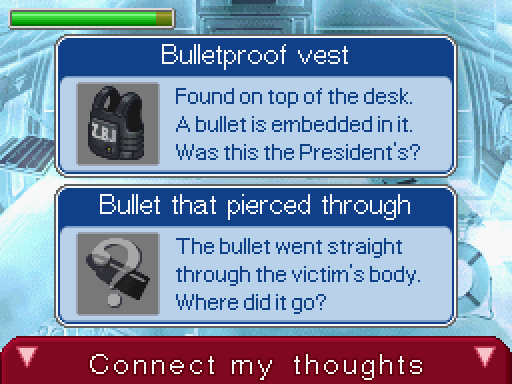 I think this one is fairly obvious.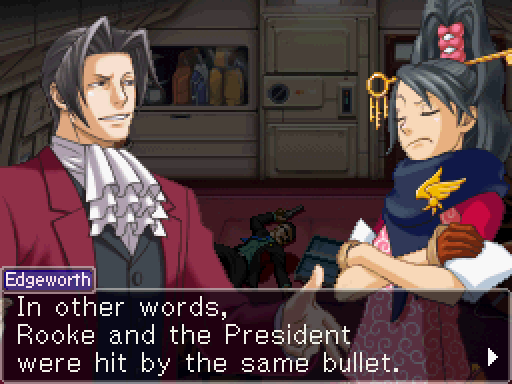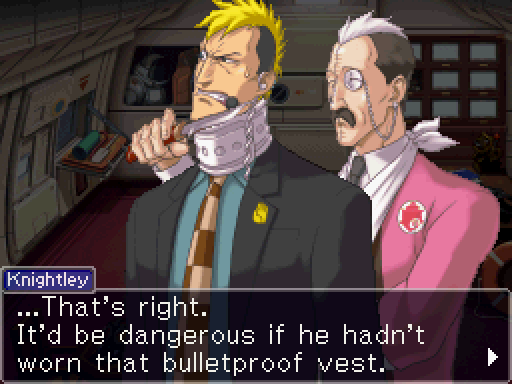 Yes. Yes, Horace, that is the point of bulletproof vests.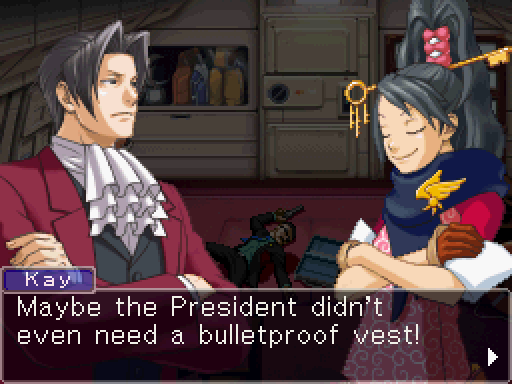 YEAH IT KINDA LOOKED LIKE IT COULD JUST RICOCHET OFF HIS ABS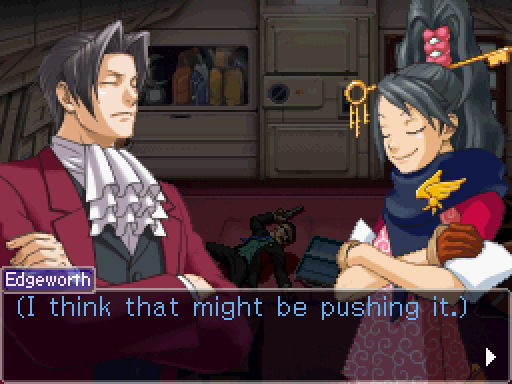 SHUT UP, EDGEWORTH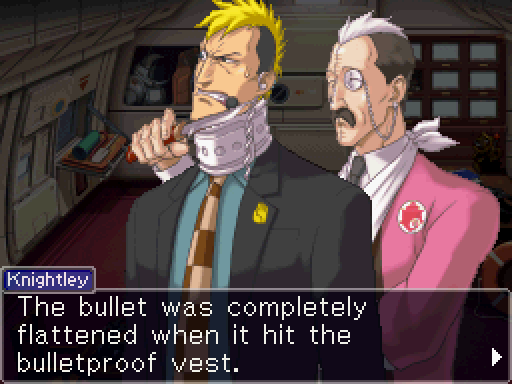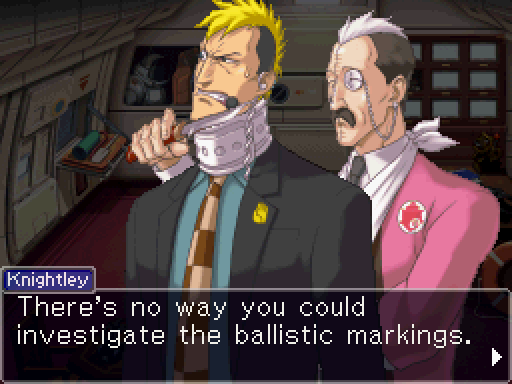 Edgeworth wants to look at the ballistic markings (this is followed by what feels like the billionth explanation of the concept in these games) but Knightley says it's no use.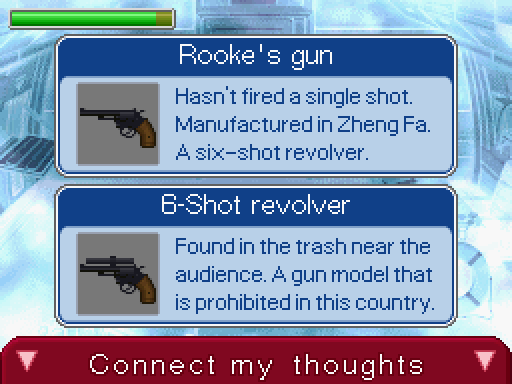 I... I guess... this...???? It leads us to the conclusion the two guns are the exact same model. Okay. All the bodyguard were provided with guns from Zheng Fa, but apparently they are not particularly rare. vOv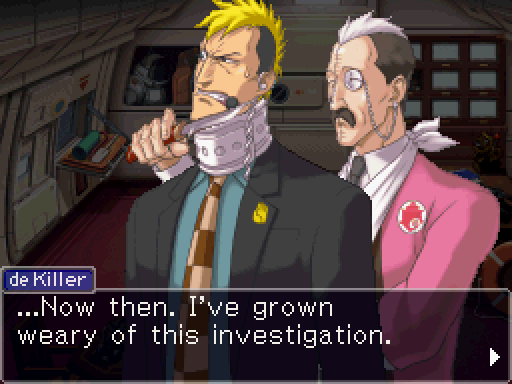 Was Logic the last straw, or...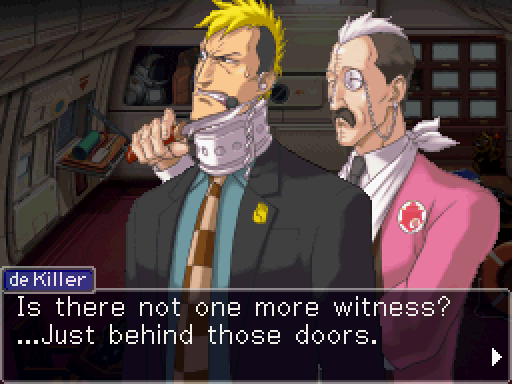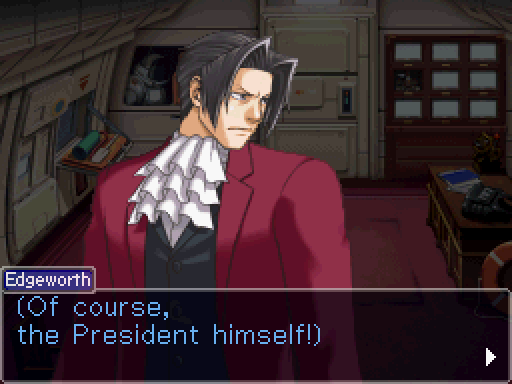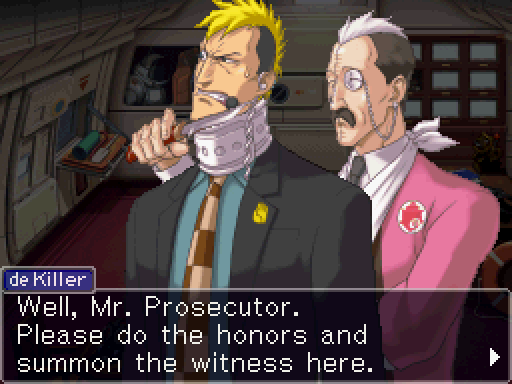 BUT HOW ELSE WILL THE PLOT PROGRESS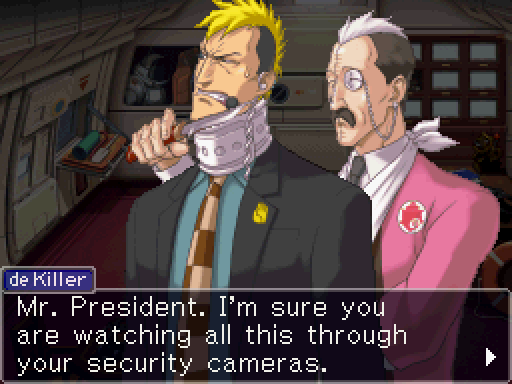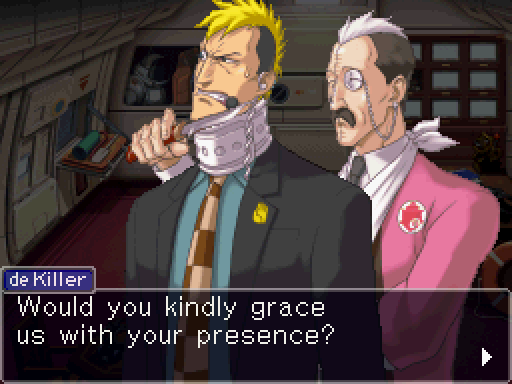 See, at least he's polite about i--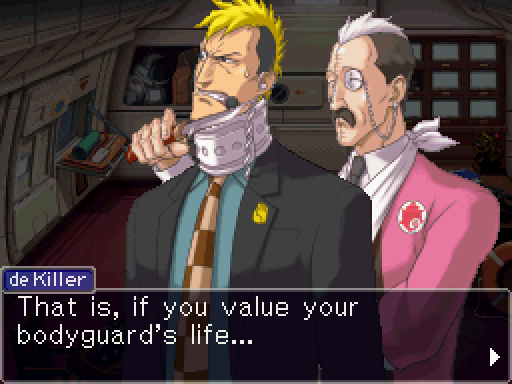 HE IS STILL BEING POLITE, THIS IS A FORM OF POLITENESS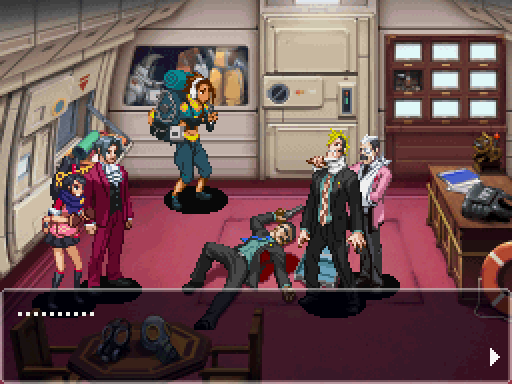 (x 3.)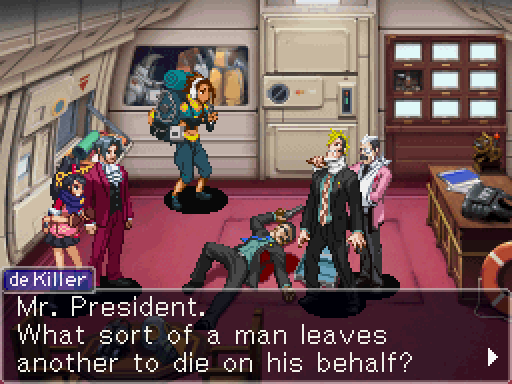 Tsk, tsk. :T
"OH GOD DON'T LET ME DIE I NEVER WANTED THIS JOB ANYWAY"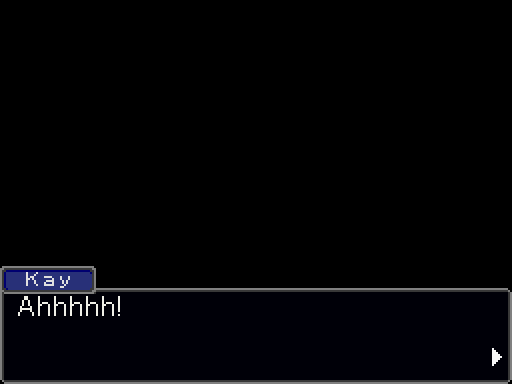 WHEN SUDDENLY, THE LIGHTS GO OUT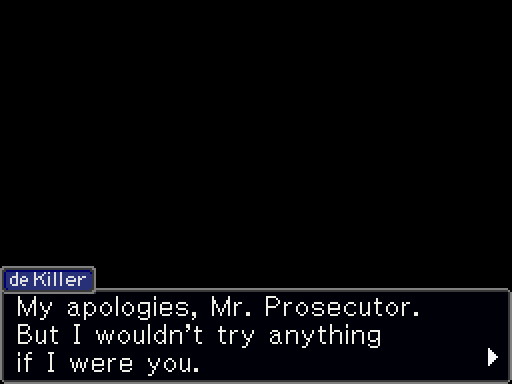 Shelly won't stand for any funny business in the dark, you hear?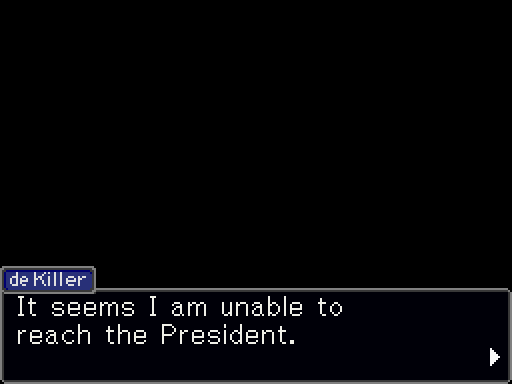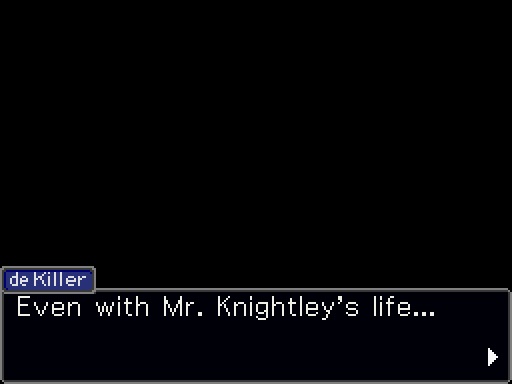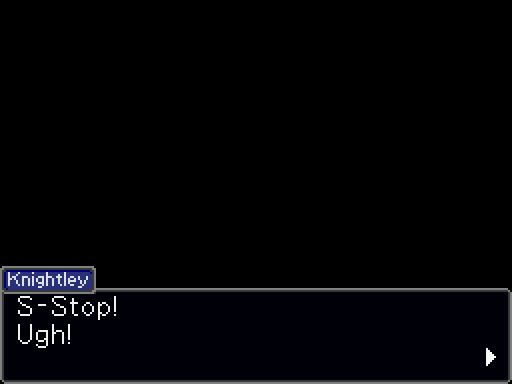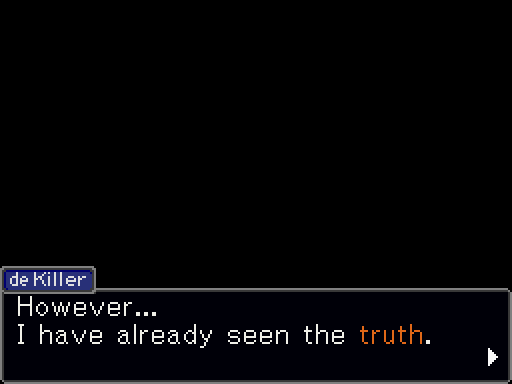 Wait really? MAYBE YOU'D LIKE TO SHARE BEFORE YOU GO??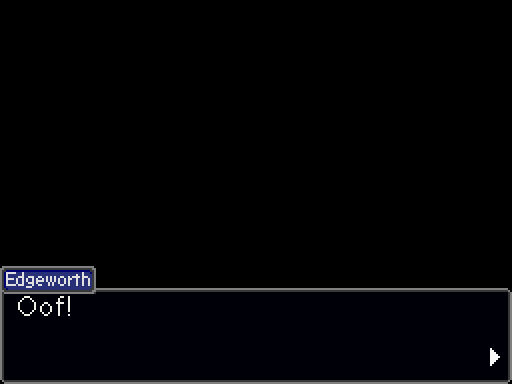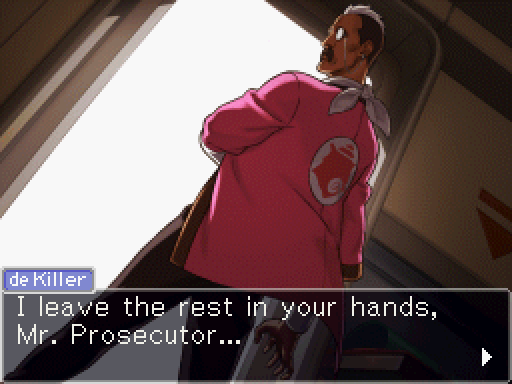 QUICK CLICK THIS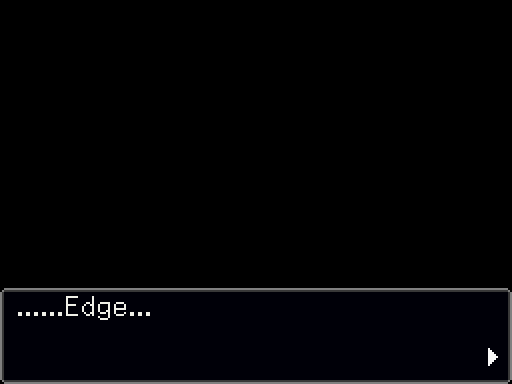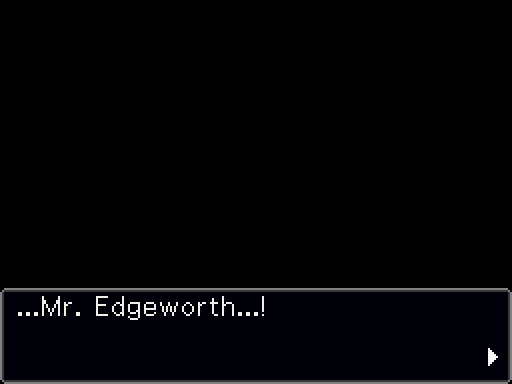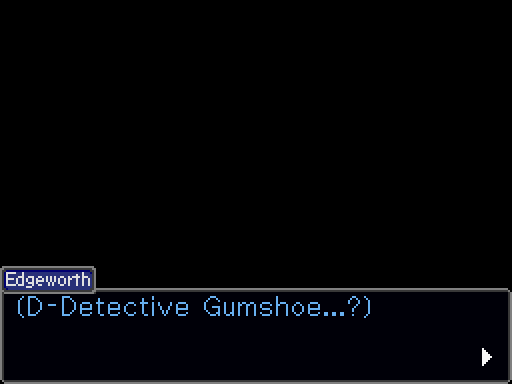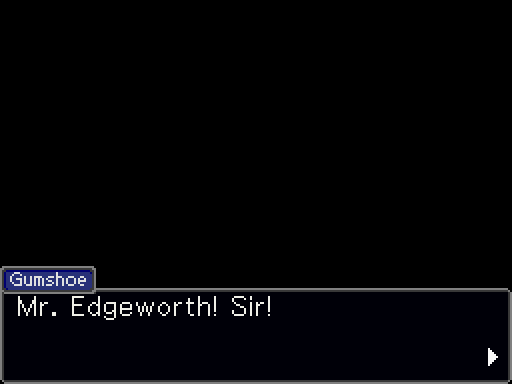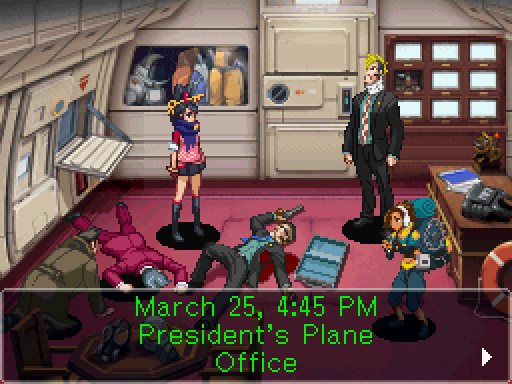 Edgeworth expressed some worry about Kay when the lights went out, but it looks like he's the one who got hurt. :U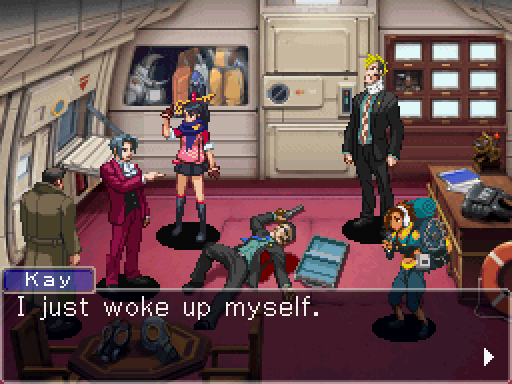 Oh, okay.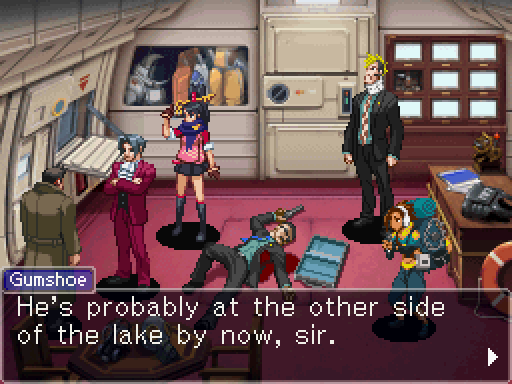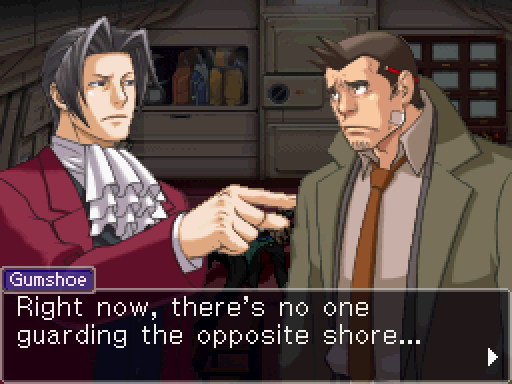 So Shelly took the lifeboat that's been lying there and off he went to the other side of the lake.
When you examine the lifeboat, you're told it only has one oar.
Shelly has one arm in a sling.
I'd just like us all to take a moment to reflect on this.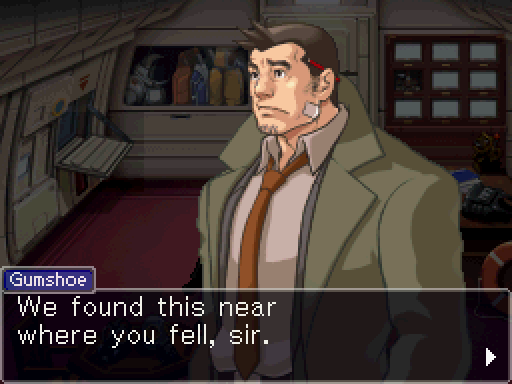 HEY NO ONE DIED THOUGH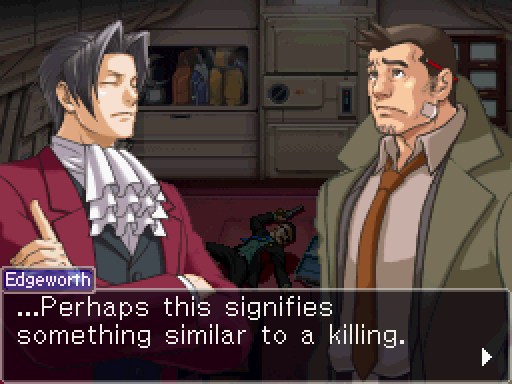 Like... Like what, Edgeworth.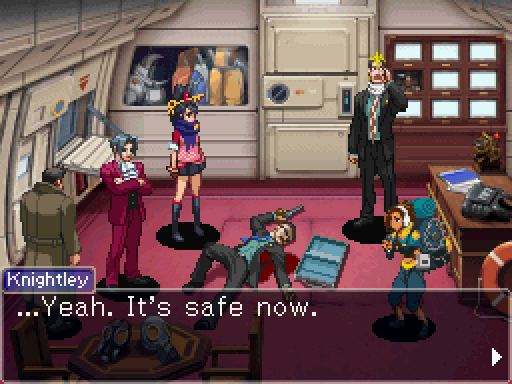 Oh my gosh look at tiny Knightley's mouth.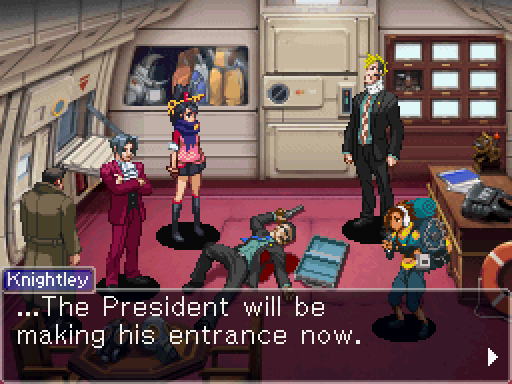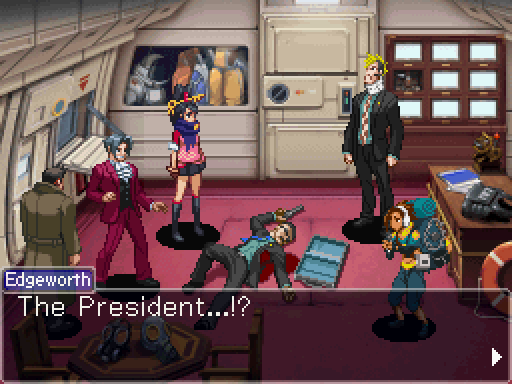 OH MAN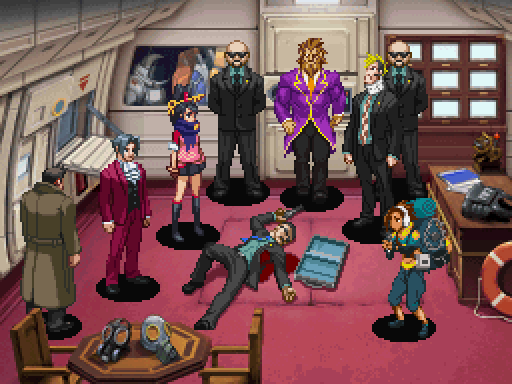 (The tiny sprites are so funny sometimes I SWEAR TO GOD)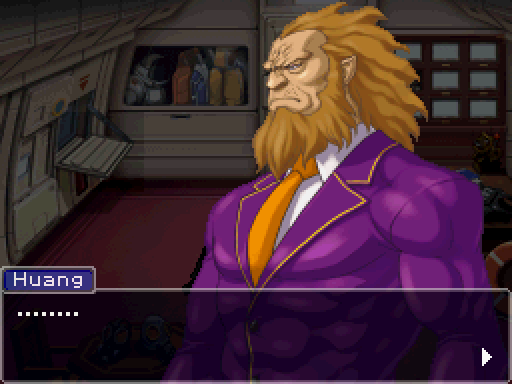 ... Wow uh. I kinda caught him on a bad frame but
WE WILL HAVE TO SEE MORE OF DI-JUN HUANG... NEXT TIME
Originally I'd planned to cut the third part off at a slightly later point, but this post started running a little long for some reason! I have no idea how that happened. How weird. A complete mystery! Wow.